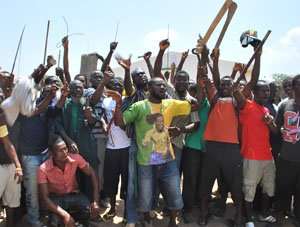 The news of two teenage boys murdering their playmate who is 11 years of age was very shocking to hear. Teenagers aged 16 and 17, murdering their friend for money rituals? How? Why? What is happening to the youth of this country and when did we get here? These were some of the issues that kept tossing in my mind.
Growing up as a young man in Accra, I only heard of such gruesome murders in the villages and not in our cities. In the olden days, such dastardly acts were carried out by older men and women for ritual purposes. In the early '80s, the infamous case of Kofi Kyintoh who was murdered by his uncle for ritual purposes caught the attention of Ghanaians and it was one case that had the whole of the country talking. The story became popular because at that time, some photographers made numerous copies of the grievous crime and sold the pictures in the market places. That was my first encounter with stories about ritualist and murders. The issue of ritual murders did not start today. It has been with us for a long time but in the past, such stories originated from the hinterlands and not the cities.
The issues of rural – urban migration, the wholesome adoption of certain foreign cultures, bad governance, lack of parental control, settlements of nationals from other West African states in the country, lack of control by the relevant institutions on radio and TV content have all played a role in the current situation we find ourselves.
Sakawa used to be a term used to describe internet fraud in the past. However, in the early 2000's, a lot of the youth had to engage in internet fraud to live certain kinds of lifestyles and as the victims got to know of the tricks, most of these young men changed their ways by engaging in other rituals such as sleeping in coffins, not taking their baths, wearing of special rings all in the bid to swindle their victims or "clients". The strategy continued to change and as the days went by, the young men and women involved in these ritual acts started using fluids from their sexual encounters with innocent people and that of others to further engage in their activities. In some instances, they kill their victims and take certain parts of their bodies for these rituals.
The recent killing of Ishmael Mensah, the innocent boy at Kasoa for money ritual came as a surprise to many because of the ages of the suspect involved. Usually, the ages of criminals who engage in such acts are almost always in their early 20's upwards, this is the first time kids of such ages have committed such a horrendous act in the name of money rituals
The rise in young men engaging in money rituals which is popularly referred to as sakawa can be attributed to many factors. The current socio-economic challenges is partly responsible for the upsurge. Many young people are not able to find jobs after the completion of their education and those who get jobs are also given very low renumeration resulting in some of them using unorthodox means to make ends meet.
Parental guidance plays a pivotal role in shaping the future of a child but unfortunately, some parents cannot afford the "luxury" of spending time with their children because they have to break their backs to make ends meet. Some are also oblivious of the activities of their wards because they have failed to play the critical role of molding the lives of their kids.
The media's role in society is very paramount. It is responsible for informing, educating and entertaining the masses. The question we need to ask ourself is whether the media is playing this role effectively? I think the media has failed in its role as a change agent in our society.
The various foreign telenovelas, misinformation of the public by a couple of them has also contributed to the moral decay that we are experiencing as a country. I have had the opportunity to post on social media about some of the activities of these media houses who purport to engage in money doubling and other rituals on TV and I have seen other people express same sentiments but it seems like nobody is interested in calling these stations to order. It is as if there are no laws in this country to regulate the media content in Ghana.
Prime time on our local televisions and radio are being used to show jujumen and fake pastors claiming to be performing miracles. Most of the TV and radio stations are interested in sensationalism because that is what gives them money. They have thrown the issue of ethics away and they are more interested in yellow journalism.
Politicians have also not help matters because instead of them developing programs and policies to help the youth, they are interested in lining their pockets with ill-gotten wealth, leaving ordinary citizens to suffer. Our educational system has now been turned into political football with every government implementing programs and policies which has resulted in the reduction of the quality of education in the country. The people do not trust these politicians anymore and they have now placed their faith in mallams and fake pastors who have also found a way of milking them dry.
The killing of Ishmeal Mensah by these teenagers should send a strong signal to our politicians, parents, religious leaders and other stakeholders. It should awaken our conscience to reconsider how we are building the future of our kids and the generation unborn.
If not for anything at all the current generation owes the unborn ones a better future. It is time we all put our differences aside and think of the future of our children and the unborn ones.
Mustapha Jimah
Email: [email protected]