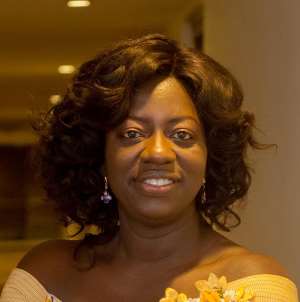 The Member of Parliament for Ablekuma North, Sheila Bartels, presented various items such as sewing machines, hair dryers, hair steamers and gas cylinders to various party cells and community aligned associations within her area.

The presentation which is the third of its kind in the month of February, was done at a specially convened meeting to interact with the leaders of the various groups.
This includes Abuburo Nkosua Fan Club – Odorkor, Nkosuo Kuo – Akweibu, Buzanga Lane Cell – Awoshie, Regix Cell – Kwashieman, Som pa Cell – Nyamekye, and a host of others.
Addressing the leaders gathered, Hon. Sheila Bartels outlined her vision for deepening the impact and role of party cells and community aligned associations.

She was of the view that such groups should not limit their activities to only political mobilization but should also be able to harness their base for development-oriented activities.
She also outlined her plan to implement a support scheme for such groups and regularly consult them on matters of concern to them and other constituents.

For their part, the various leaders of the cells used the opportunity to congratulate the newly elected MP and thanked her for including them in her vision for the constituency.
They also promised to ensure that the donated items go to members of their groups and communities in need of it to practise or learn a trade.