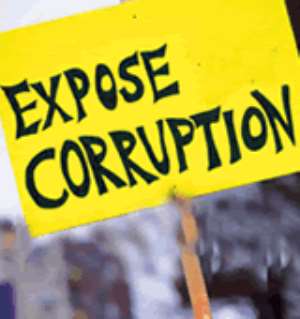 Two major things, in my considered opinion, have been proven to be the major setbacks of development in Ghana and Africa at large: corruption and leadership nemesis. Both are complex subject matters one cannot exhaustively delve into with a single write up. I will leave the subject of leadership nemesis for another day.
Corruption has eaten deep into the fiber of society. Indeed, it is assumed to be normal when it is done by the ordinary citizenry. In the church, in the market, at bus stations and our job places, people engage in various acts of corruption. These acts are often given little attention.
According to historian Keith Schoppa, bribery was only the tools of Chinese corruption, which included embezzlement, nepotism, smuggling, extortion, cronyism, kickbacks, deception, fraud and squandering public monies, illegal business transactions, stock manipulation and real estate fraud. The subject is so broad that we cannot narrow it for convenience. Perhaps, our lenses are always focusing on the politician who is very vulnerable, in my own estimation.
The civil servants who are the "old mice in the kitchens" are often sparred of, when there is a discourse on corruption. Today, corruption is simplistically narrowed to political corruption. I mean any scandal that has traces to a politician or a politically exposed person. My position is not to exonerate the politician. Indeed, there are many corruption scandals in Ghana involving politicians. The most recent ones are the famous AGYAPA deal and the famous PDS scandal where politicians were the key actors. What I seek to do, however, is to broaden the discussion.
In this particular piece, I will attempt to discuss four reasons why corruption is on the ascendency.
1. Society's expectations/ pressure on those who lead
2. Inadequate character formation in our education
3. The quest to amass wealth within the shortest possible time
4. Weak systems
SOCIETY'S EXPECTATION FROM LEADERS/PRESSURE ON LEADERS
In our part of the world, we depend too much on personal relationship. Right from the family level, it is expected that once a member of the family breakthrough, he must at all cost, by all means, help others to benefit from the system. This aged long culture, pushes so many leaders or officers to act beyond what is acceptable by law, just to please people for social prestige. For example, if you are an instructor at the Ghana Armed Forces, family members expect that you should be able to admit some members of the family into the force with or without qualifications. Your inability to meet this expectation makes you "useless" before the society. You are prone to insults and ridicule.
The few individuals who wants to respect ethics at work by standing firm have little strength to sustain. When you read Chenua Achebe's "No Longer at Ease" the protagonist, Obi Okonkwo is confronted with the issue of bribery. Obi insists severally that accepting bribes is unethical. Those working around him say it is a very normal practice. Even though, Obi is a senior civil servant, he owes a lot as a result of loans. Indeed, he is so broke that when his mother dies, he is not able to attend the funeral. This subjects him to societal ridicule. As his predicament exacerbates, he gives in to accepting bribes. Within the shortest possible time, he becomes a rich man. Indeed, he wants to stop that unethical act but gets caught and prosecuted.
Chenua Achebe used the story of Obi as a mirror of how society has made corruption so enticing. Even though Obi, a much learnt civil servant stood firm to fight against corruption, his individual strength wasn't enough. He was overpowered by complexities of situations around him. He makes an emphatic point that society is complicit when it comes to the subject of corruption. We corrupt our leaders, we remain silent on issues of corruption and we are not honest on the subject of corruption. Achebe opined "A corrupt government can only remain in power if its citizens remain complicit."
It is a trite knowledge that many citizens make outrageous demands from those in leadership positions especially, political positions.
INADEQUATE CHARACTER FORMATION IN OUR EDUCATION
Character formation must be the foundation of education. An educated person should not only possess skills, knowledge and qualifications but character. A character that anchors on morality, principles, values and virtues. An educated person without character is half baked, unfit to uphold principles and ethical standards.
Our educational system must prioritize character training alongside knowledge and skills.
In the situation that we have, the very brilliant ones become the smartest thieves in our offices. They know how to take advantage of the system to the detriment of the larger good.
With reference to "No Longer at Ease" it is evident that Obi had an English Educational background. He was trained to always uphold ethical standards. A foundation that makes him abhor bribery and corruption when he returns to Nigeria even though his quest to stand firm was shellacked by a complex situation. If many of the civil servants had such backgrounds, beliefs and principles, change would have been possible.
It does also appear that, Religious bodies are far losing their role in character formation. There are so many compromises in the system, manifesting in our education and subsequently, in the world of work.
THE QUEST TO GET RICH WITHIN THE SHORTEST POSSIBLE TIME
We seems to turn wealth into a god and worship it endlessly. This endless quest to amass wealth at all cost has infected many a youth who think of how to take advantage of the system at any little opportunity. Even the jobless youth, we have, think of buying the latest cars and other ostentatious properties. It is good to have lofty dreams but such can only be realized through hard work. Many people think that where they work isn't conducive enough to make more savings to realize their dreams. Indeed, a conducive environment is largely discovered to mean an environment that permits corrupt acts. This mind set of acquiring wealth is the mental readiness for corruption.
WEAK SYSTEMS
I use systems to refer to the laws and their implementation, anti-corruption agencies, institutional architecture, law enforcement agencies, the media and civil society organizations. We have so many laws but implementation and enforcement remain the biggest challenge. The bureaucracy in the public sector institution also provides a breeding ground for corruption. In a personal conversation with a friend, he asserted that "you are forced to bribe when you are to face long and complex bureaucracy because that system is un-assuring and frustrating". The sort of corruption that emanates from this system is systemic or endemic corruption. It is a type of corruption which is primarily due to the weaknesses of an organization or a process. It can be contrasted with individual officials or agents who act corruptly within the system. This gives too much discretionary powers to some public officials who mostly use same for personal favors. There is also the issue of lack of transparency, low pay and a culture of impunity. Voices of dissent are seen as enemies of progress to those who have control over the system. This is very common in Africa.
Policy makers and anti-corruption agencies must begin to look at the above, critically, so as we can fashion out strategies that can minimize corruption in the public sector. Millions of Cedis are lost annually to corruption in our system. Indeed, the Center for Democratic Development, CDD, reported in 2019 that Ghana lost 9.6billion cedis to corruption from 2017-2019. That is too huge a money that could be used transform our overstressed health center. This provided us a golden opportunity to think of developing a comprehensive strategic plan, long term, to deal with the menace. Unfortunately, the conversation ended on blame games. We must begin a new path.
Denis Andaban
The Village Boy from DBI
References:
https://en.m.wikipedia.org.com
Achebe, C. (1987). No Longer At Ease. London: Heinemann educational
Merriam-Webster Dictionary