Why Do We Suddenly Fear Vaccines?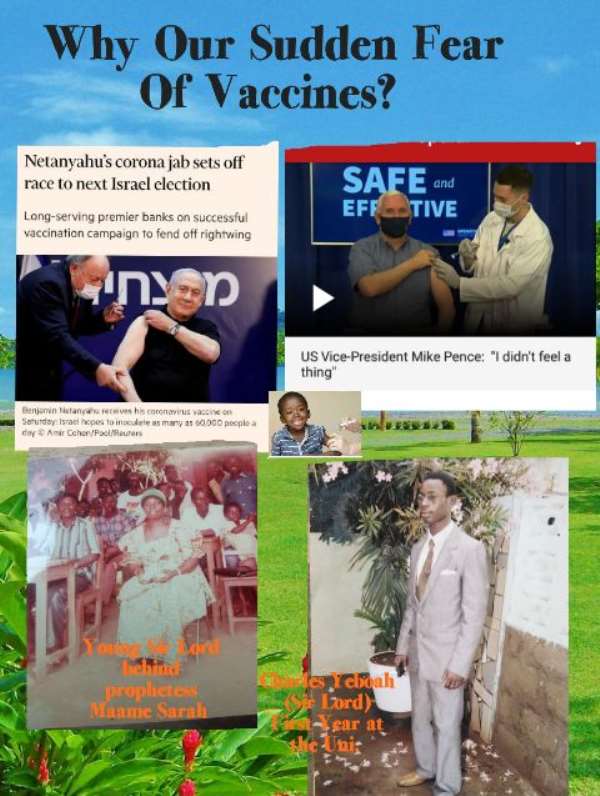 It's still fresh on my mind when as kids we held that yellow - yellow clinic identity cards with our names written on aloft as treasured trophies as we marched to the Goka old clinic for mass vaccinations.
Either we're led to the centre from our schools by our teachers, or we're sent to the vaccination centres from our homes by our parents, no a guardian wanted his or her ward left out of this lifesaving exercises.
In front of the Presby Church, parents fought for places in the long queue for their children. The queue snaked about the precinct of the chapel as far as the eye could see. And it seemed all the natives of Goka had been gathered at one place for a festivity.
I don't know, perhaps it was because my Dad was a leading member of the church, and a member of their singing group, I don't remember when I joined the queue length as my peers did.
Boldly, in the face of my age mates crying and been goaded on by their parents to be fearless and take the syringe, I took mine upon my father's encouragement, smirkingly, mocking my own fears.
This was my good self in my native Goka, years ago, growing up. None thought about it once that we were by then "Guinea pigs" picked for BigPharma's laboratory test. Or we were part of the "overpopulation" some political elites sitting somewhere in Europe and America using the Ghanaian/African leaders to "depopulate" us through mass vaccinations.
Thanks to the late Prophetess Maame Sarah's religious activities that brought in the pilgrims, Goka was not drought of those who could read and understood if the vaccines then were harmful to our health.
There were lettered people who came from all over the world to consort the prophetess in religious matters. The richest amongst them even built permanent structures at _Turom_ (the prayer camp), and sent their wards to the very basic schools we all attended, and they joined the mass vaccinations too.
Then again, though most parts of the Bono Region where Goka is located was not connected to the national grid, my native Goka was illumined by selfsame prophetess of blessed memory, using a fuel-powered generator that served the town. Parents watched television news and listened to the radio broadcast too. The police station officers and those who worked at the Suma Rural Bank branch in Goka too bought newspapers. There were people who knew current affairs of the global world.
There were people who could have widely read and informed us of the dangers in vaccinations, to shorten the long winding queues we joined to be inoculated against Yellow Fever, Malaria, Cholera, Measles, Chicken Pox, Tetanus, Whooping Cough, Tuberculosis and many other communicable and non-communicable diseases the scientists warned its lethality rate demanded all kids are vaccinated.
Here I am, erring on the side of caution, living today to tell my story about the vaccinations I had as a child.
There are other kids elsewhere who were denied these lifesaving vaccinations due to either misinformation or scepticism towards conventional medicine. They're dead and gone or living to show for the scars healed from their wounds caused by disdain for vaccinations.
Why the sudden fear of Orthodox medicine in our contemporary times?
Is it that we're "overeducated" or "undereducated" that we rise against vaccinations?
As we say it in Goka : _do we despise the source of the river and drink from its downstream?_
Why should we trust BigPharma to take a placebo to heal our headaches, but shudder now when they who were our healers yesterdays announce a vaccine to battle a novel virus that's running aground the wheels of global economies, and sniffing out precious lives?
Or it's a risible tale of one not eating chicken but doubles the intake of eggs?
Pfizer BionTech or Moderna, if those mandated with oversight responsibilities give approval for mass vaccination in Ghana, as I innocently did take jabs as a kid, I'm in for this vaccination too.
We can't allow our unsubstantiated fears to let Covid-19 dictate our God-given unrestrained lives.
Who's not sick and tired of adhering to the new normal Coronavirus protocols of mask-wearing, hand sanitising and elbow-bumpings?
God bless progressive leaders in Israel's Benjamin Netanyahu, and America's Veep, Mike Pence, for taking the bold steps to take the jabs on live television.
Long live conventional medicine!
*Written by Charles Yeboah (Sir Lord)*
*The Founder Of One Ghana Movement (#1GhM)*
*Contact: +233-249542111*
*Email: [email protected]*