"The restitution of those cultural objects which our museums and collections, directly or indirectly, possess thanks to the colonial system and are now being demanded, must also not be postponed with cheap arguments and tricks."
Gert v. Paczensky and Herbert Ganslmayr, Nofretete will nach Hause.
We republish below a press release issued by Barazani, a Berlin based Ngo working group, Museums and Collections of the alliance Decolonize Berlin, issued on 16 December 2020 on the on the occasion of the digitalised opening of the Humboldt Forum, Berlin, Germany.
Readers will no doubt be aware that the 700M Euros German cultural project has suffered setbacks in its arrangements for a formal grand opening of what is considered Germany's most ambitious and expensive cultural project so far. The present COVID-19 pandemic which shows no sign of ending soon has prompted the management of the Humboldt Forum to opt for a digital opening. Barazani, a Berlin NGO, has seized this opportunity to reiterate the demand of Nigerian and African peoples and States, several NGOs, and United Nations/UNESCO to restitute the precious Benin artefacts which were looted by the British Army in 1897 in its notorious Punitive Expedition; they should indicate a clear political will to restitute the looted objects by, for example, setting a specific date for restitution.
As most people now know, the Prussian Cultural Heritage Foundation that has the holds the property in the Humboldt Forum/Ethnologisches Museum and controls, inter alia, the Humboldt Forum, has no right to hold on to 580-500 Benin artefacts bought by the Germans from the British in 1897, knowing they had just been looted with great violence in Benin City, the invaders killing innocent children, women, and men. The Benin king, Oba Ovonramwen who resisted British hegemonic attempts, was sent into exile and his city totally burnt to the ground.
The German officials who are now very eloquent on Berlin, where the colonialists sharing of Africa began, becoming a meeting place of cultures, know very well that in this matter, there is no equality. Having held looted artefacts of Nigeria for more than hundred years, refusing despite all demands to return some, they cannot honestly and in good conscience assert that German culture and Nigerian culture are meeting on equal grounds. It is like putting two boxers in a ring and binding the hands of one at his back. They have high-jacked
Nigerian and other African artefacts and thus impeded our exercise of the human right to independent cultural development.
Germans have recently put a Christian cross on the Humboldt Forum building. Some have denied this cross any religious significance. Do they also deny the cross any moral significance and act as if they were not holding thousands of looted artefacts of other non-European peoples in their museum and thus becoming, like the British Museum, a citadel of stolen goods of others?
Although Barazani explicitly addresses itself to the Prussian Cultural Heritage Foundation, the demand is also meant for all institutions illegally holding Benin and other African artefacts.
We should note that the Humboldt Forum and the Ethnologisches Museum are members of the Benin Dialogue Group which has explicitly and formally rejected restitution and, under British influence, is proposing loans of Benin artefacts to Nigeria. Loans are not in the interest of Nigeria nor, eventually, in the interests of the illegal holders. They should make a clear break from the past through restitution and forge new relationship as advocated by the Sarr-Savoy report on restitution.
Kwame Opoku
PRESS RELEASE ISSUED BY BARAZANI ON THE OPENING OF THE HUMBOLDT FORUM, BERLIN.
On the occasion of the opening of the Berlin Palace - Humboldt Forum, the working group Museums and Collections of the civil society alliance Decolonize Berlin. calls on the Prussian Cultural Heritage Foundation (SPK) to finally set a credible sign for the political will to restitute African cultural objects from colonial contexts.
In view of their appropriation in colonial contexts of injustice, the working group demands that the SPK today officially declare its willingness to return the cultural treasures looted from Benin City in 1897, as well as all other objects from societies that were under the control of colonial regimes. The unique Benin bronzes, royal regalia from Cameroon, thrones from Tanzania, statues of gods from Cameroon and war horns from Togo are not Prussian cultural property!
In addition, the working group announces the opening of an information office for the digital BARAZANI.berlin - Forum Colonialism and Resistance, which will be opened up in the immediate vicinity of the Berlin Palace - Humboldt Forum. From there, tickets for the project will be distributed in the future. Decolonial city tours, art actions and info events will also be organized from this office.
Mnyaka Sururu Mboro, board member of Decolonize Berlin:
"We will continue to fight until Germany loses its colonial arrogance! In 2015, Minister of State Grütters gave her word at the topping-out ceremony that Berlin's cultural treasures from all over the world would only be presented with the consent of the societies of origin. And now the SPK even wants to keep and exhibit the reclaimed Benin bronzes. The people of Africa deserve a sign of justice and respect, not a humiliating trophy show in a palace of slave traders and colonial mass murderers."
Contact:Mobile: Mnyaka Sururu Mboro: 01525 1755 370
Mail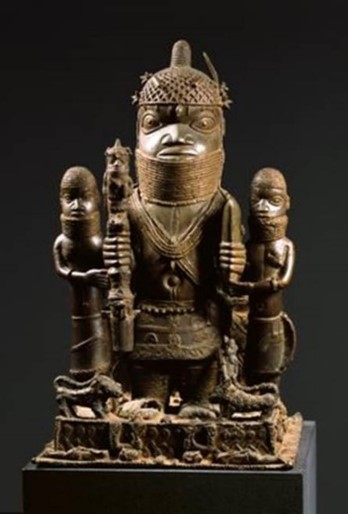 Commemorative head, Oba Akenzua, Benin, Nigeria, now in Ethnologisches Museum/Humboldt Forum, Berlin, Germany .Is he more Prussian than Nigerian?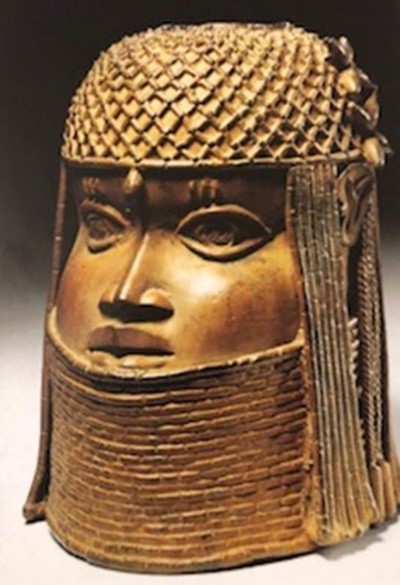 Commemorative head of an Oba, Benin, Nigeria, now in Ethnologisches Museum/Humboldt Forum, Berlin, Germany. Is this a Prussian noble or a Nigerian noble?