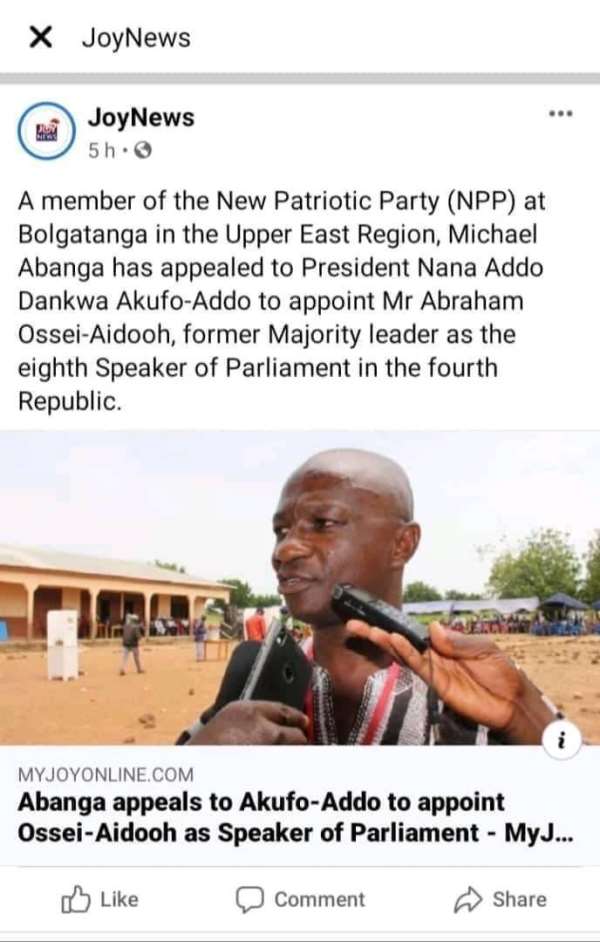 Dear Joynews,
Journalism is very important in every country. In fact, in most countries, it's the fourth arm of government. In Ghana, many are taking the noble profession for granted, and as a result, reports or publish lies with impunity. What is always the motive for reporting the news without fact-checking? Is that the ethics of journalism? It stings a respected media hub like Joynews will go that low to report fake news. Meanwhile, I hope that this letter reaches you in good faith. It came as a shock to the People of Binduri as attention has been drawn to a stomach publication you made on your Facebook page (14/12/2020, Tuesday, Morning) regarding a statement made by one Mr. Micheal Abanga as captured in your article concerning the appointment of a new speaker for the 8th Parliament.
The interviewee captured in your article is Mr. Micheal Abanga but you people rather mischievously used the image of the MP-elect for the Binduri Constituency which he has not made such reckless call on any media house. It baffles the Constituents of Binduri that a highly reputable media house like Joynews, where most people rely on for the trending news, has thrown due diligence and professionalism to the dogs instead of calling the Honorable member to verify from him whether he really made such statement, before publishing or going ahead with the said publication. We believe you made the publication to tarnish the image of the newly elected MP whom many have since described as "the saviour of the sinking ship of Upper East Region's NPP just to please your paymaster.
I find it so difficult to appreciate why a media house like Joynews is unfortunately trying so hard to be part of the 'abunkelele' media houses. The people are by this appealing to your outfit and other media houses to always authenticate their sources of information before publishing them to avoid causing chaos and misunderstanding in the near future.
The youth of Binduri constituency are very angry about that your stomach publication against the MP-elect and are ever ready to take you on for that. I call on the leadership of Joynews to bring their Journalists to order by doing the needful by pulling down the story and apologize to the honourable MP-elect or face our wrath. Failure to do so will leave us with no other option than to take legal and all other legitimate actions necessary against Joynews.
We stand for justice and our leader's, especially the MPs, image must be protected at all cost. We say no to bad publications or news- No To Bad Journalism!!!!