An Affidavit Of Change Of Ethnicity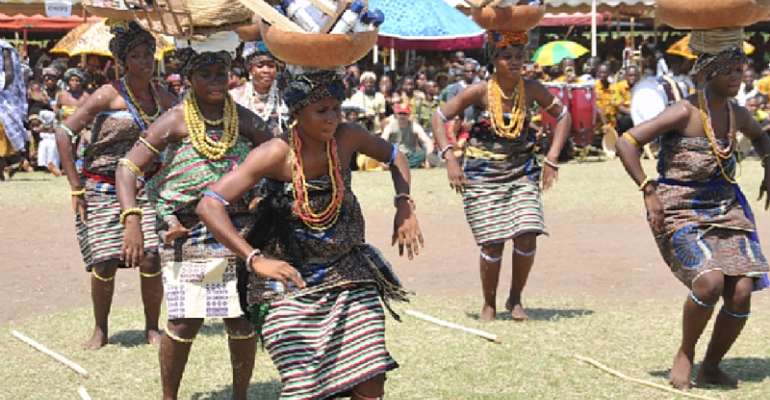 It should be easy. Just as we can swear an affidavit to change a name from cat to dog, it should be possible for us to swear that and change our ethnicity too.
It has gotten so deep, so widespread and worrisome that it bothers me. It appears many are not born into the ethnicity of their dream. They appear to be helplessly living in some sort of regret, simply because the random events of nature gave them to their parents who inturned birthed and socialized them into a group they dislike.
This has been a worry for many from as far back as I can remember. And I don't even know where to start the narration. So let me just start from the most recent event that triggered this thought in my heard.
The ongoing message of peace ahead of the 2020 elections, which requires one to attach their name - by name I mean the name that is given us by default depending on which day of the week one was birthed - to the statement "I stand for peace".
There is already some striking similarity between the names the Ɛʋɛs use and that of the akans. A female born on Monday among the Ɛʋɛs has Adzo as part of her name by default, on Tuesday she is Abla, on Wednesday Aku, Thursday Yawɔ, Friday Afi, Saturday Ami and Sunday Kɔshiwɔ. The Akans on the other hand have Adjoa, Abena, Akua, Yaa, Afia or Afua, Ama and Quarshie or Quashiba.
I do not know if any merger under the Ghanaian umbrella had taken place, but I felt appalled when the recent peace campaign revealed that Ɛʋɛ children especially those who genetically became female were showcasing the akan rendition of their names instead of theirs.
But this story neither began today nor yesterday. Casting my mind a little into the past, I can remember countless experiences and stories which should let us begin to consider a system where one can swear an affidavit to change their ethnic affiliation.
The story of one Sisi, is still fresh on my mind. Her actual name passed on from her parents was Sitsoƒe. It was in the comment of a trending story on an Ɛʋɛ platform on Facebook that I discovered her.
An issue was being discussed among the Ɛʋɛ family about how some Ɛʋɛ men do not take delight in pampering their women. Then from nowhere this lady by name Sisi jumped into the comment box and disdainfully wrote "As for me no Ɛʋɛ man for me" she commented.
A few others, if not many thousands saw the comment too, but considering how hostile some of these girls could be on social media it takes only those with tough skin to question people who make such statements.
We went at her with questions but in her subsequent replies one would simply read comments of an angry, bitter young girl who cannot even point at a single bad experience she had had with any Ɛʋɛ man but just hated the idea of being with an Ɛʋɛ man. I would later find out that she was not just any random girl but a supposed law student and a daughter of a renowned Ɛʋɛ author who had appeared on television many times on a program that was meant to promote root, culture and identity.
At the time I read this comment from this lady however, her father was already dead, and it made me wonder why she had grown to be so bitter against her father's blood that ran through her.
She is not alone in hating where she comes from but the faceless people who only identify themselves as belonging to their original ethnic group when some glory emerges from there are countless.
I have seen the same among other groups. A Fante lady once confided in me that she didn't want anything to do with her Fante men, but would prefer and Ɛʋɛ man who was not born or raised anywhere in the Volta Region. Her comment was full of suspicion and made me very curious but I would later realize that she was giving me a green light for a relationship. In order not to look dumb, I bluntly told her that I didn't qualify because I was born in Keta and was highly traditional and above all an atheist and so I cannot qualify on her list. She looked disappointed but I thought it was a reward for people who cannot love their own roots and that of others.
The complaints about Ɛʋɛs who just after a day of leaving the Volta region pretend not to understand a word in Ɛʋɛ is not a fabrication. I don't know how it relates to an Abla calling herself Abena or an Aku calling herself Akua, but obviously the hate of root and the desire not to continue from where people are born is burning among many and there should be a way to help them out.
Therefore, just as a Blackman who has never been to Europe can swear a simple affidavit and change his African name into an European one with a little skin lightening to perfect his new identity, we should also be able to create a system where the same or similar method can help anyone change his or her ethnic Affiliation. After all, among the Africans the individual would not even need any kind skin transformation to belong.
The problem is already with us so let us find a way to help the suffering. It is real and this suggestion could help curb the pace at which love stories end abruptly just because the family of one would not allow their child to cross carpet and marry from another ethnic group. With this solution one will simply swear an affidavit and then he belongs.