This Martin Amidu Man Is A Blatant Liar!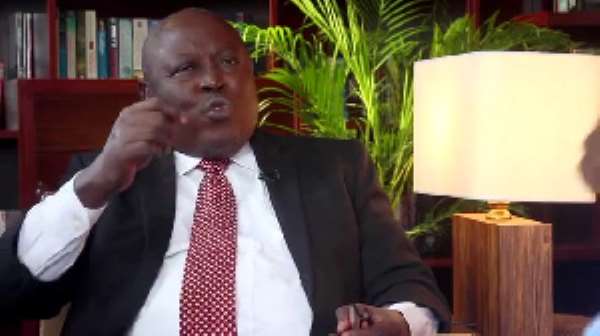 Martin Amidu is the proverbial _Duabroni_ (the flawless tree of the forest). But as he avails his character to scrutiny akin to his resignation as Ghana's first Special Prosecutor (SP), he comes out from my makeshift theatre as thus follows:
He doesn't worth his sort with the accolades of "citizen vigilante, anti-graft campaigner, and what there are, ropes of titles upon his shoulders. ...."
No one is after his life. It doesn't worth a pesewa to take it. To gag him from speaking as usual to the media, or scorching his fingers so he can't hold again that his long pen to rant his trademark tirade?
He's such a dissatisfied bitter old man who always cries wolf when there is none.
Why the cliché Agyapa Agyapa Agyapa, and not talking about the previous corruption allegations he levelled against the previous government that undoubtedly gave him that Special Prosecutor job?
Mmoa a y'aka ɔmo akɔ adidi no mmaaeɛ a yɛka afoforɔ kɔ adidi bio?_
A liar and shameless nation wrecker. He's lost his credibility.
These tactics of his, "people are threatening my life", are only geared at saving his already muddied stinky character.
All what Martin Amidu said in that his long resignation letter to his employers and the sequel rejoinders and rebuttals are a nonsense bunch of allegations that are mere populist, chauvinistic, and idiotic; to look for euphemistic words to describe him and his rantings.
Hear this nonsense of infantile gimmickry, that" my kinsmen are ready to ride down south in truckloads to defend me if attacked by those threatening to take down my life".
They who from their own shadows flee for cover do this say. They're the cowards who in a broad-day light mistake the pen for a pistol and shout claiming being shot when the inky tool is only pointed at them.
What does he take Ghana for?
That any other disgruntled failing tribalistic character can inspire his kinsmen to pick arms and "defend" them when there's nothing to defend? And hence turn Ghana into a tribal warfare with all the so-called powerful men mobilise and arm their kinsmen to their defence when they, out of palpable hallucination, think it that their lives are under threat by others? What rather becomes the use of the law enforcers and the judiciary? Must Martin Amidu who prides himself to have the finest legal brains in Ghana be educated on how slippery it's the path he's directing our course now?
He should rather mention names and spare us that folly of casting insinuations.
What is it that we owe him for our applause, otherwise he'll hold the republic to ransom?
A service that he only accused people of being corrupt, and when given the mandate of attorney to prosecute them he failed miserably than the word failure is?
_W'ada adekɛseɛ yi ho ama adeɛ akye wo, w'antumi annyɛ hwee, y'akra wo sɛ yɛ'sɔre akɔpra a, afei na wo'kaakaa afunuma?_
He (Martin Amidu) levelled millions of corruption allegations against the Mahama government, prior to his appointment as SP.
Why couldn't he prosecute him (Mahama) during his two year stay as SP, and he now want to make name with the Agyapa royalties deal?
The man is completely incredulous
The president (Nana Addo), as Ghanaians will judge it, inability to prosecute the previous (NDC) government for allegations of corruption informed his choice for Martin Amidu to occupy that novel office of the Special Prosecutor, since the man Amidu wrote in his "citizen vigilante" epistles that he knows it all, how corruptive the Mills/Mahama government had been.
So, was he thinking that the president employed him to prosecute his own NPP people, hence Amidu using Agyapa royalties investigation as his bargaining chip to win public sympathy for his failure and loss of credibility vis-a-vis how he hoodwinked Ghanaians for that employment? Do we have example of such government world over who commits that obvious political suicide?
Can we be serious for once, we're talking about politics here, not a church. Even there, in that supposed saintly temple, the ace Ghanaian comedian, Abusuapanin Judas, says: _"trust issues compel the pastor to crosscheck the offertory money collected by the elder of the church"._
Martin Amidu was given a de facto "power of attorney" as a Special Prosecutor to bury for once-and-for-all the festering corruption that's obviously holding back our development as a country.
And he was chosen on his record as holding on the businessman Alfred Woyome in the Judgement Debt scandal under the Mills/Mahama NDC government, and the numerous corruption allegations he levelled against the same administration (s).
Wouldn't it be better, if he'd started the no-brainer one, prosecuting those behind the earlier corrupt deals, he would have met no challenges holding on the incumbent?
Do read again the antecedents, the history of the man we're talking about here.
He'd claimed not long ago that he alone, the monkey by River Goka, who can redirect the currents of the storm of corruption that's sweeping to the swamps the progress of Ghana. Hence his appointment? And he failed to give us that succour abysmally?
Go back and read his citizen vigilante epistles.
He said he alone holds the key to imprisoning the rogue freakish corruption nature of Ghana.
Thinking that sounding a sanctimonious and infallible tone to fighting Ghana's corruption, as do those spectators at a _Oware game_ who must brag before given the chance to compete, and they do nothing better than those they whittle and replace. Such is the jokers who that do.
And if Amidu tell Ghanaians that so he thought, even after been referenced to his earlier pontifications against corruption, then he's not just as fiendish as do the devil, but we must subject to testing, his character if he's not one of the clowns in Ghana, or it's rather his sanity that's weighing him down so speedily.
Until such is done, Martin Amidu is no more to be marked when he alters a word.
Ghana will forever be great as did promise our Maker with or without Martin Amidu and his ilks.
God bless Our Homeland Ghana!!!!
*Written by: Charles Yeboah (Sir Lord)*
*The Founder Of One Ghana Movement (#1GhM)*
*+233249542111*