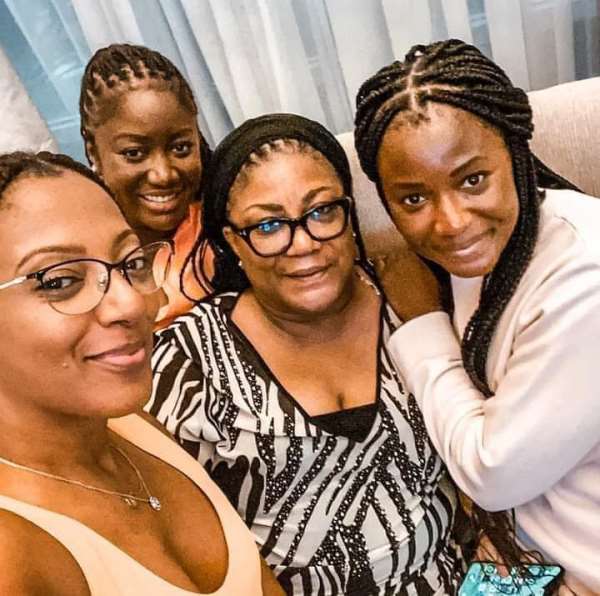 Wife and daughters of President Akufo-Addo
In a presentation yesterday on Accra based Akan speaking TV station UTV, Communication Officer of the National Democratic Congress (NDC), Sammy Gyamfi alleged that daughters of President Akufo-Addo had registered a Non Governmental Organization with the name 'My Sister's Keeper Foundation' with which they go around soliciting funds from state agencies and institutions through opaque means. He provided evidence of some GH¢227,000 payment made to the NGO by the Ghana Commercial Bank Ltd also known as GCB Bank to buttress his point.
In defending the Akufo-Addos, a number of people including popular social media personality and musician, Kwame A Plus have pointed to a number of charity works carried out by the ladies as justification for whatever amount of money they received from the state institutions. Chief amongst their works include a center they out up for autistic children.
This justification is simply untenable for a number of reasons. First of all, if the Akufo-Addos were philanthropical as they want us to believe, why didn't it occur to them to set up an NGO all these years until 5 months after their father was sworn into office as Ghana's President? If their intentions were purely about helping people, couldn't they have teamed up with the Rebecca Foundation which is their mother's own foundation to help the poor and vulnerable? Was it only after their father became president that their philanthropical instincts got activated?
Secondly and most importantly, why should state institutions spend tax payers money funding people's private initiatives when the state is confronted with lots of challenges to deal with? Coming out of the recent banking sector crisis, one wonders if this is the most efficient way a bank should be spending people's monies when we were told that acts such as this led several banks to their graves during the crisis? Have we learnt any lessons at all? Should any ordinary person write to these institutions to seek support, will such a person stand the same chance of getting such assistance as quick as the President's daughters had?
It must be placed on record that, the Akufo-Addos waste no time ravening on our taxes. It is their usual cup of tea to want to devour our resources with the aim of enriching themselves. The wife of the President herself through her foundation had received GH¢120,000 from the Ghana National Petroleum Corporation (GNPC). This was revealed at the Public Accounts Committee sitting on the 1st of September 2020. So why are the Akufo-Addos the only people eligible for such funding?
What makes matters murkier with the funding from GCB in particular is the fact that, at the time (22/05/2018) the President's daughters received these monies from GCB, the Managing Director of the bank was Mr. Raymond Sowah who is cousins with Rebecca Akufo-Addo, the President's wife and mother of the the founders of the NGO. Isn't there a clear case of interests conflicting in there? Obviously, there's no transparency in this transaction. This is why every well meaning Ghanaian should be demanding some accountability from the Akufo-Addos.
Interestingly, on the 18th of August 2016 at a press conference addressed by no other person than the then Acting General Secretary of the NPP John Boadu, the NPP accused the wife of John Mahama (then President) of engaging in vote buying with her NGO, The Lordina Foundation. Unlike Sammy Gyamfi whose allegations came with evidence, John Boadu had alleged with no shred of evidence that the Lordina Foundation could be spending from the national kitty in carrying out her philanthropic works. He told the media at the conference that, "Mrs Lordina Mahama has assumed a special role in the 2016 NDC campaign. She is effectively the Chief Director of Gifts. The wife of the president of the republic is going around the country, with a fleet of trucks loaded with goodies, which she is sharing for votes. These run into millions of dollars. Ghanaians deserve to know. How much is being spent? Who is paying for it? Where is the money coming from? Is it from our taxes or from friends? Which friends? Are they friends who are also capable of winning contracts to build walls and roads? The First Lady must be transparent and accountable."
It is therefore very disingenuous if not hypocritical for anyone to look at Ghanaians in the face and tell them that, it is okay for the Akufo-Addos to have unlimited and unfettered access to our taxes so long as they're carrying out one or two philanthropical activities here and there. Going by what John Boadu, now General Secretary of the NPP said about Lordina Mahama back in 2016, don't we also deserve the same level of transparency and accountability from the Akufo-Addos as demanded of the Mahamas? Or are Akufo-Addo's daughters more Ghanaian than Lordina Mahama?