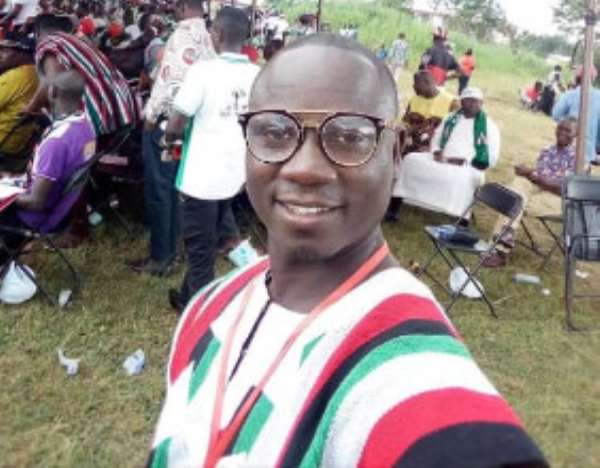 According to the Transformational theory, transformational leadership focuses on constantly evolving and establishing new benchmarks and goals. They devote their time to establishing goals and pathways to success for their Societies.
Suaman"s Development exploded when the transformational Hon. Joseph Betino came to office during the Visionary Mahama Led NDC administration from 2013 to 2016. The pace of development made it even impossible for the inexperienced to fail. It was very surprising why Christian Affi Baah, the current DCE suffered such a humiliating defeat during his bid to lead the NPP as Parliamentary Candidate.
Truthfully, "As per the law of karma, every positive deed which we do, generates a "merit"; while every negative deed results in a "demerit or sin" which subsequently we need to repay by enduring happiness or unhappiness". The inexperienced leadership trait of the DCE has clearly exposed the nightmares in the dreams of the delegates which informed their decisions over the choice of Candidate but the elderly always say, "a chameleon will forever remain a chameleon no matter the colour it turns to". The exercise of professional dishonesty or lack of professional understanding of governance process has shrouded Suaman District Assembly"s performance since NPP came to power in 2017.
The DCE, upon his appointment to office has deliberately abandoned the very services and developments Suaman need from his leadership, rather turned his competencies to blaming, name calling and vaguely criticizing anything good done by the previous government and the former DCE. He has been seen severally in the public and media space shedding his poor performance on Hon. Betino, the former DCE. His attempt at discrediting the high earned performance of the Betino led administration aggravated in his deliberate attempt to deny Contractors, payment of monies due them which compelled contractors to seek legal services resulting in huge sums of Tax Payers Monies meant for Suaman's development, used as court fines, payment of legal councils and other judgment debts.
Deceitfully, Hon. Christian Baah took his frustration to NPP"s Wontumi TV to once again lie to mostly his NPP fanatics and other well-meaning Ghanaians who watched him. On the live aired TV show, Christian blatantly claimed ownership of projects executed by the then Betino – Mahama led NDC administration. He categorically mentioned: 1no. 3 Unit classroom block at Gyampokrom, 1no. 6 Unit classroom (Sunkwa), 1no. 6 Unit classroom with auxiliary facility (Dadieso Islamic languages) 1no. 3 Unit classroom JHS block, 1no. 3Unit Kg block, Dadieso hospital and its auxiliary buildings; 1 Semi-Detached Nurses Bungalow (Dadieso hospital), 25km tarred road from Akotombra Nkwanta to Dadieso and Karlo and tarring of Dadieso town Roads. He unashamedly went further to claim ownership of Suaman District Assemblies Central Administration Buildings and bungalows constructed in 2013 to 2015 for then newly created District.
We bring to the notice of the general public that, none of these projects were presented to the much famed delivery tracker site. So who is he deceiving? The NDC unequivocally states that, his claims of ownership of those projects are lies and wish to set the records straight.
It is instructive to note that, school projects mentioned above were exclusive projects of the Betino – Mahama led administration which started and stated in the 2015 and 2016 budget statements of the Suaman District Assembly. Again, his claims of payment of contractors are misleading. His inexperience in the governance process through refusal to pay contractors resorted to court fines and judgment debts which has crippled Suaman"s Scarce Resources for development.
Again, it is informative to note that, Suaman New Health Facility initially commissioned as a Poly-Clinic by the Late Prof. Mills saw massive infrastructure improvement from 2013 to 2016. Projects such as Bangalows, Toilet Facilities, Male and Female Wards And Other Facilities started and completed under the Betino-Mahama led administration which were stated clearly in the 2016 budget stament of the District Assembly. It"s also evidential to note that, Christian Baah"s Nana Addo NPP government has not put up even one single project at the Dadieso Health Centre since it took office. The only ongoing project is the MP"s Health Initiative of providing X-ray and other scan machines and equipment for the good people of Suaman.
Once more, Dadieso town roads contract was awarded in 2013 which saw the contractor constructing drains and fillings. In 2015, under the COCOA Roads Project, G.S Construction secured a contract to construct and tarred 25kms road from Akotombra-Nkwanta to Dadieso to Karlo and Dadieso town Roads.
Howerver, Nana Addo"s NPP government halted the tarring of Dadieso Town Roads in 2017 with the bogus notion of investigating the contract for alleged wrong doings. This stagnated the completion of the project for more than a year and only took the intervention of demonstrations by well-meaning Ghanaians, Political leaders, Traditional Rulers and other Civil Society Organizations.
We state further that, Hon. Betino through his high performance in the FOAT ASSESSMENT (2013 = 87%, 2014 = 88, 2016 = 99%) secured DDF of more than Twenty – One Billion (21b) old Ghana cedis for the Assembly and left DACF Arrears (2013 = Gh₵365,449.45, 2016 = Gh₵458,846.46 and 1st qrt of 2017 =Gh₵414,317.65) totaling Twelve billion, three hundred and Eighty-six million, one hundred and thirty-five thousand, six hundred old cedis (12, 386,135.600). The question is what has happened to the over 33billion old Cedis Hon. Betino left which has been released and received by the current assembly in addition to over 65billion DACF, IGF and statutory funds?
In conclusion, it is worth sharing that, NPP Delegates and the good people of Suaman did a great service of rejecting the inexperience and intellectually dishonest Christian Baah and his NPP in his bid to contest 2020 MPship and 2016 general elections respectively.
The good people of Suaman must and will not fall for these lies!!
The NDC fully assure that, the experienced "ADWUMAWURA" Joseph Betino comes with fresh and goal-oriented ideas to move Suaman forward through well informed selfless leadership.
Thank you.
Agyiri Clearance
Constituency Communication Officer
Suaman, (0246684680)