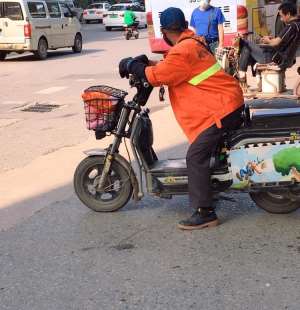 Recently I have read some opposing arguments about the intended legalization and regulation of Okada in Ghana.
I must say that some of the arguments against the proposed legalization and the subsequent regulation of same from 2021 under President John Mahama are simply borne out of IGNORANCE or political mischief.
Considering the state of public transportation challenges in Ghana, I think that after the legalization and regulation of the operations of Okada, most if not all the concerns against the intended legalization would be addressed. Just like taxis or trotro, or other legalized and regulated transportation services in Ghana, Okada could be same.
I will use the pics attached to this post to briefly explain my point and deflate the wrong notion against Okada legalization. Before then, I think that some of the concerns raised by those who have contrary views about the proposed legalization may also be due to insufficient information and misunderstanding.
The fact about Okada is that even in some developed countries like China which is one of the top 5 countries in the world with an efficient and integrated modern transport system such rail, aviation and road transportation system, car sharing, e-bike sharing etc, some Okada services still exist in many cities and towns.
The are two gentlemen in these pictures, both operate Okada services. Both are using electric scooters of different models. They are stationed at one of the public lorry stations in Wuhan City. There are several of such people at train and lorry stations in the city. It's very common to find these riders at local train stations, bus stops who opt to pick pedestrians or passengers at a fee or fare and they will send you to your destination once an agreement is reached.
My understanding is that, #Okada is NOT about the type of motorbike 🏍 used for the operation but it simply means picking someone on a motorbike or a tricycle and collecting money as a fee or fare. Therefore the type of motorbike used is immaterial as some may want to suggest. I have also seen few tricycles other cities in China including Beijing that carry commuters at a fee and it's very safe. Countries like India also has some form of Okada in a form of tricycles or aboboya etc.
In summary, instead of rubbishing the idea of legalizing and regulating Okada in Ghana, I think that we should rather discuss it thoroughly and propose appropriate legislative framework to aid its smooth implementation and regulation in Ghana under the next NDC govt.
In many parts of Ghana, vehicles can't reach there but Okada can reach especially the hinterlands. People in those areas also deserve means of mobility or movement from one part of their environs to another. In cities like Accra where roads like Okponglo-Tetteh Quarshie interchange, 37 hospital-Sankara overhead, Nima-Labone, Osu-La, Ofankor-Achimota sections where traffic congestion is often terrible deserve other quick means of mobility etc.
Okada is not bad if it's properly regulated by the authorities concerned. Let's support the noble idea. It will not only great jobs for our people but it will likely help ease up avoidable congestion on the busy streets of the cities. And it will help people to move to and from areas where vehicles cannot go either due to lack of motorable roads or bad roads.
Okada is here to stay. Help make it better.
Baba Musah