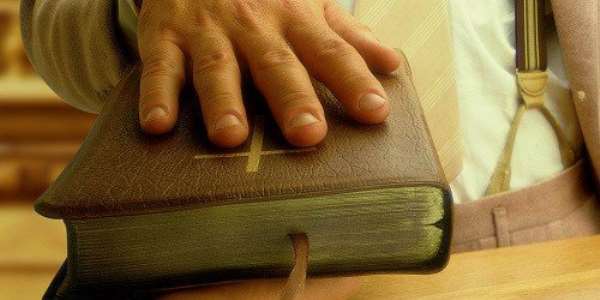 Politicians, judges, and civil servants abuse their power after swearing oaths with the Bible
Worldwide, civil servants, high court judges, government officials, and politicians taking appointments or political government positions require taking the oath before serving the public to respect, protect human, civil rights and freedoms.
To fulfill their official duties entrusted to them with dignity, they either hold the Bible in their right hands or lay their hands on the holy book, swear to ensure security, legality, law, order, and integrity of the state, and to serve the people.
After the appointments, it seems they forgot that they have previously sworn with the Bible to serve the people.
Like a learner-driver who impresses the examiner to pass his driving test and after taking his driving license, starts driving recklessly, politicians no longer live up to their promises, after swearing the oath of appointments.
The Bible and the Koran are taken for granted, therefore, what is written in them is completely ignored because of the love of money, power, corruption, and greed. This is how politicians make fun and mock the Bible.
"Do not be deceived: God cannot be mocked. A man reaps what he sows," Galatians 6:7 and surely, whether you believe it or not, both the Koran or the Bible can't be mocked. You will pay dearly for it and the results are what we are seeing today.
Don't use the Bible or the Koran to swear, if you know that you are going to do what you promised or contrary to what is written in the holy books. When such things are done, politicians pile up curses, hardships, and suffering on their own heads.
However, the truth is they don't suffer for the evil things they do because they have amassed wealth enough to live in comfort. It's only the common people that suffer. Yes, it's only the common people that reap the evil seeds planted by the evil politicians.
Judges take bribes and often judge the cases in the interest of elites that never go to jail, while they put a hungry man that stole bread behind bars for ten years. Yet, he thinks he has done a good job to be praised. Please, stop mocking God because you will surely pay for it.
Those who told Africans yesterday to abandon paganism and adhere to the principles of the holy scriptures are the same people telling African leaders today, to legalize homosexuality and lesbianism. Why the world will not be in such a chaotic state?
I don't care about those that choose to be gays or lesbians, it's their own choice but I care about how they used the Bible to deceive Africans, while whatever politicians do never reflect on what is written in the holy books.
What is actually the concept of swearing oath with the Bible? The idea of ​​introducing the oath of public servants, politicians, judges, etc, is that the oath will contain a promise to serve the interests of citizens, abide by the Constitution, legislation, avoid personal interest and prevent corruption.
But what we see today? Massive corruption in all institutions and the continuous violations of this oath with impunity or without any disciplinary consequences, leading to political unrest and suffering.
In this regard, we mustn't expect this world to be a better place. All of us will die, leaving our children behind and they who continue to suffer because politicians didn't build any better future for them.