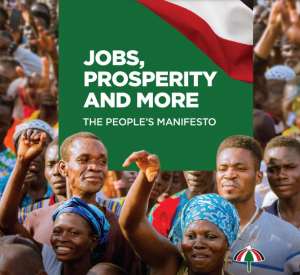 This NDC manifesto will certainly salvage Ghanaians from the countless acts of economic brigandage, profligacy and the deluge of state-sponsored conspiracies hatched to mortgage the state for private Gain.
Ghana has never encountered such brazen acts of family and friends thievery!
Impervious to shame, Nana Addo has constructively (constructively borrowed from Kwaku Azar) removed the Auditor General, the only bastion left to protect our coffers from the Akyem Yahoo Boys - and rather implanted a cabal of family and friends to milk Ghana dry!
The problem is not merely the NPP, but the family and friends thievery! It is a Civic responsibility of all Ghanaians to vote out this pre-planned agenda by the ruling Akyem Yahoo boys to plunder the State! President Mahama is the only hope if Ghana is to ever annihilate this corona epidemic of corruption supervised by Nana Addo.