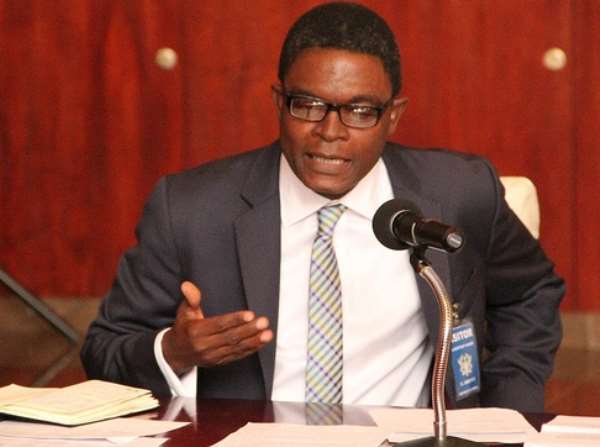 Dr Emmanuel Akwetey — Executive Director of the Institute for Democratic Governance (IDEG).
He says that the same old, same old inaugural speech given by Vice-Presidential Candidate Jane Naana Opoku-Agyemang, the running-mate of former President John Dramani Mahama, was "phenomenal" and easily the best to have ever been given by any Vice-Presidential Candidate in Ghana's Fourth Republic. This is rather pathetic on the part of Dr. Emmanuel Akwetey, the Executive-Director of the Institute of Democratic Governance (IDEG), because the former Mahama-appointed Education Minister merely advertised the gross political incompetence and abject lack of vision and common sense on the part of the entire leadership of the National Democratic Congress (NDC) – (See "Jane Naana's Inaugural Speech 'The Best Ever' – Emmanuel Akwetey" StarrFM.com / Ghanaweb.com 8/1/20).
Well, I have read the full-speech and already remarked on the same, so let me just briefly focus on the scandalous intellectual and psychological superficiality of the IDEG Executive-Director, who thinks that merely raising the National Flag at an electioneering campaign rally is tantamount to the promotion of nationalism. I hope the children had been put to sleep before Dr. Akwetey made such an asinine pronouncement. By the way, what is so "nationalistic" about the leadership of a political party that effectively bankrupted the National Health Insurance Scheme (NHIS), pooh-poohed the School Feeding Program, and vehemently opposed the Akufo-Addo-implemented fee-free Senior High School Policy Initiative?
As well, what is so nationalistic about a party whose leadership has been fiercely fighting in court to have our nation's borders swept clear of all our national security personnel, so that foreign nationals and illegal immigrants could swamp our polling stations in order to determine for us which of our politicians deserve to rule the nation for the next four years? If Naana Opoku-Agyeman's rhetorical pabulum, larded with self-incriminating platitudes and downright hypocrisy is, indeed, the best speech ever delivered by any Fourth Republican Vice-Presidential Candidate, then one wonders where Dr. Akwetey has been all the while that Vice-President Mahamudu Bawumia has been educating Ghanaians about the economic indicators that they need to be looking at in order to wisely decide whether their country is on the right path of quality-of-life development or not.
Claiming cynically that we need to build an inclusive government and country, when all the exclusivist Cash-and-Carry policy initiatives have been coming from National Democratic Congress' regimes, does not make Naana Opoku-Agyemang's inaugural propaganda address "a phenomenal speech." Maybe what a tongue-tied and mentally impoverished Dr. Akwetey really implied was that Naana Opoku-Agyemang's speech was the best attempt at the commission of political suicide, especially where the former first female Vice-Chancellor of the University of Cape Coast vehemently decried ethnic chauvinism, knowing full well that it is only his Election 2020 Presidential Campaign Partner who has been campaigning in the five northern regions, so-called, on an Anti-Kabonga Agenda which says that only a foolish Ghanaian citizens of northern descent would vote for a presidential ticket with a southern-born candidate like Nana Akufo-Addo at the top of the same; and that unless the northern-descended Alhaji Bawumia was made the Presidential Candidate of the New Patriotic Party, the latter party would not be considered to be worthy of the vote or ballot of any northern-descended Ghanaian citizen.
Would Dr. Akwetey bet that this is how a politically inclusive nation is built? I also wonder what kind of "think-tanking" Dr. Akwetey has been doing at his IDEG office in Accra. I mean, credentials aside, this man has absolutely nothing worthwhile to show for his professional pretensions.
*Visit my blog at: KwameOkoampaAhoofeJr
By Kwame Okoampa-Ahoofe, Jr., PhD
English Department, SUNY-Nassau
Garden City, New York
August 1, 2020
E-mail: [email protected]