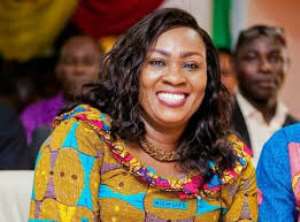 It is instructive to prelim this article by stating that the recent shooting incidence involving Hon. Mavis Hawa Koomson cannot be treated as an isolated case but rather a proper representation of President Nana Akufo Addo's government appointees' total disregard for rule of law in this country. It is important that we put her actions in its proper context! That she is a classical representation of the majority of President Nana Akufo Addo's appointees cannot be taken lightly. Why?
The utter opulence and impunity with which President Nana Akufo Addo has licensed his appointees to engage in all manner of unacceptable conducts which are affronts to the rule of law and indeed the peace and harmony in this country should be a source of worry to every well-meaning Ghanaian.
The overt and covert opulence behaviours exhibited by government officials since the inception of Nana Akufo Addo led-administration in this country leaves much to be desired. To say that such behaviours have derailed the once good name the once human rights activist has earned for himself decades ago is an understatement.
To begin with, Hon. Carlos Ahenkora who was discharged and advised after having being tested positive to stay indoors or go into self-isolation, blatantly ignored the expert advice, and violated the presidential directive which stated that in the midst of the COVID-19 pandemic, certain protocols should be observed as a measure to help curb the spread. What did we not see at the registration centre that he(Carlos) visited in his constituency in Tema? He, openly, with impunity, hagged people around and violated social distancing protocols!
What did the President that claims to be on top of the fight against the pandemic do? We were all here in Ghana when the newsmen carried graphics of his behavior in various TV stations! What did he do? Must the president crack the whip only when his orders are violated by the opposition apparatchiks? It is therefore not surprising to many well-meaning Ghanaians that President Nana Akufo Addo has failed woefully in his so-called fight against Covid-19 thereby placing Ghana among the worst infected countries in Sub Saharan Africa next to Nigeria and South Africa. This is ample evidence of the fact that the president and his appointees are not fighting the dreaded virus in good faith! It is much Adu about nothing!
Again, we have witnessed in this country where Hon. Kennedy Agyapong openly ridiculed Parliament and bastardized the presidency with utter impunity! What did he do?
Worst of it all, the Ayawasu West Wougon bloody incident which called for a very high powered commission led by his Eminence, Emile Short, as Chairman, was treated with utter disdain and thrown to the gutters! What's more worrying than this? What action did President Nana Akufo Addo take in connection with the commission's recommendations? His attitude, reaction and inaction of the commission's findings and recommendations created a culture of impunity among his appointees that have led to Hawa Koomson's latest public shooting in the Kasoa polling station incident.
If the president had shown leadership at the Ayawasu West Wougon saga by attaching action to the recommendations, what we are witnessing today would not have been taken place under his watch! So the call by security experts like Prof Kwesi Aning, CODEO and other well-meaning Ghanaians for Hawa Koomson to resign or be fired by the president is like a drop in the ocean because it does not attract the attention of Mr president a bit.
It worries many of us that President Nana Akufo Addo has turned Ghana into a Banana Republic where his appointees have been given the license to act and behave as they so wish without regard to rule of law. It is an unfortunate development and a recipe for political chaos moving into elections 2020 with this posture.
I wish to call on Civil Society Organizations, the Peace Council, Christian Council and indeed labour unions and the international community to as a matter of urgency, and indeed, for the sake of preserving the peace and harmony of this country, hold President Nana Akufo Addo accountable to the constitutional dictates he had forsworn on January 7, 2017, to uphold and defend, and to protect and preserve the rights and lives of every Ghanaian in this country by ensuring that his appointees act within the limits of the law provided by the constitution.