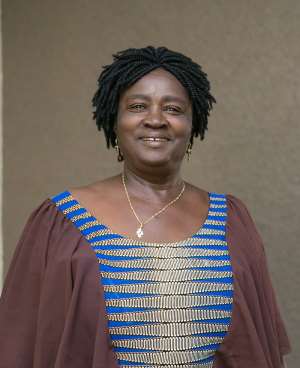 "I refused to go to the university with my good grades because I had a single parent, my mother struggle through my secondary school education under John Evans Atta Mills, I remember sometime after we had pay school fees the school authorities, will still close down the school because of no feeding grants. That was the NDC party in power, soon I was able to graduate with good grades ready to go to the university, my mother consulted many educated people around the community I was living and they all advice my mother to let me go to the training college because I will be able to complete with the support of the monthly allowance. This gives me hope and many hope, So the matter was not about the number of students to admit but the number of students that can survive in training college without the monthly allowance, therefore the minister to cancel the allowance means she doesn't have love for women and children. Let me tell you that the NPP government did not just restore the allowance but removed the struggle to complete Senior High School, parents and students will always remember this and to me, the professor does not care about the plight of majority of the poor in Ghana" Kofi statement when I asked him about professor Jane as running mate.
Professor Naana Jane Opoku was nominated by the opposition party as the running mate of the National Democratic Congress, after her nomination, it was obvious that she is not a match to the ruling party running mate. She does not have a good record in politics and therefore will make it easy for Ghanaians to vote massively against NDC.
Prof Naana was the former Minister of Education who during her leadership at the ministry failed to build 200 secondary schools they promised Ghanaians, she supervised the cancellation of teachers and nurse's allowance that brought hardship to students and parents, and she left huge debt for the ministry.
She was a total failure in the history of the Ministry of Education as a minister, the current Minister of Education Dr Opoku Prempeh said on radio with a record of the handing over a note from the Ministry of Education as an embarrassment with proof.
I will, therefore, make my analysis based on political leadership and I will be comparing her with others, first all based on her record as a former minister, all graduate nurses, nurses from and training nurses and teachers training colleges are going to vote against her because she was their enemy after the cancellations of the allowance, NDC will lose massively because teachers and nurses will vote against NDC based on her track record.
Secondly, she is not an active politician that can rap voters like Bawumia, she the is the quiet type and Ghanaians are not ready for silence politician, Samira Bawumia wife of vice president is more
active campaigner as a politician and public speaker then the NDC running mate.
Thirdly Bawumia is very young and energetic who still have more to over Ghana development and an expert in economics that every government will need to effectively manage the economy and improve lives of people, whiles Prof. Naana is a retired teacher and she is on pension and will, therefore, need more time to relax and less time to work, she does not have economics background and both the NDC presidential and vice-presidential candidates are communication experts and will, therefore, offer Ghanaians nothing with regards to economics, therefore the NDC ticket is not a ticket that can effectively manage Ghana.
Finally, NDC ticket is considered as an incompetent ticket because what the two of them manage to cancel teachers and nurses allowance and now John Mahama made a statement that if he becomes a president again he will maintain the training allowance this is an endorsement that he was incompetent and the minister who is his vice is also incompetent, while the NPP ticket have an experience politician as presidential and intellectual economist as the running is a perfect match that can continue the good policies and the digitalization of Ghana.
Ajene Abongo Mashood
Communication officer NPP Duisburg Chapter Germany