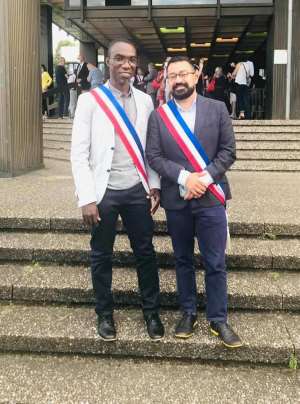 Mr. Owusu TUFUOR has just won the French Municipal elections of 27th June 2020 as Deputy MAYOR of the European Capital City Strasbourg in France
STRASBOURG CITY is the seat of the European Parliament, the Council of Europe, the European Court of Human Rights, the European Pharmacopeia as well as other European Institutions.
Mr. Owusu TUFUOR is the newly elected Deputy Mayor of the city. He won on the ticket of EUROPE ECOLOGIST, THE GREEN.
Mr. Owusu TUFUOR is now the Deputy Mayor of Strasbourg in charge of Technical equipment, Sports, Leisure in addition normal human relation activities.
Mr. Owusu TUFUOR holds a Master of Arts degree in Public Administration as well as Post-Graduate Research work in Social Science and Conflict Resolution from the University of Strasbourg, France.
Mr. Owusu Tufuor speaks French, German, English and Twi. He is married with 2 children.
Parents of Mr. Owusu TUFUOR hail from Asante Mampong, Ghana, Christy and Jacob TUFUOR.
Mr. Owusu Tufuor is actively engaged in the daily political activities of his political party for the past decade in France.
Mr. Owusu Tufuor has been working for the past years as Head of Department in charge of Accommodation and Capacity building of the Youth in Strasbourg, France.
Mr. Owusu TUFUOR is also the President of the GHANA FRIENDSHIP ASSOCIATION OF STRASBOURG since 2016. He is a well-loved leader.
The entire Ghanaian Community in Strasbourg, in France, in Europe is really proud to have such a brilliant leader of Ghanaian descent to be democratically elected as DEPUTY MAYOR of STRASBOURG, the European capital.
Signed
Frederick A. ADDO
President of A.C.G.I.E.
Association of Concerned Ghanaians in Europe for Human Rights, Democratic Governance and Peace Initiatives for Africa (A.C.G.I.E.) humanrightsanddemocracy.acgie@gmail.com