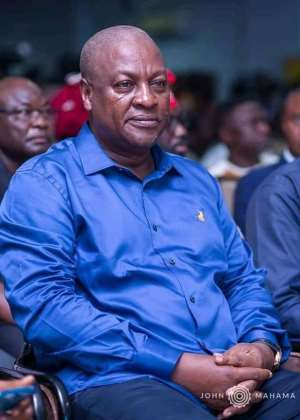 I listened to JM during his recent Facebook interaction with the nation. In a reply to a question about why he hasn't named his running mate, he said it was due to the fight against coronavirus viz government ban on social gathering and political campaigning. I must confess that, that is quite commendable coming from a statesman of his calibre. However, as a person who have learned to think good and bad at the same time, I am a bit worried about such a statement coming from an opposition leader seven months to a crucial election.
Assuming President Akufo Addo mischievously extends the partial state of emergency which seems to play in his advantage now to say ending of November, how is the NDC going to win the 2020 elections? I think, JM should have a second thought about reasons giving for not naming his running mate and also come out with a feasible campaign strategy which can work in an era of restrictions. I am deeply worried. Times have changed as such we must read between the lines and profer outcomes which will suit the times.
If care is not taken, there won't be campaigning but there will be an election. Currently, Akufo Addo's discretion is the law. He can choose to lockdown the country whenever he chooses and absolutely no nobody can complain because there is coronavirus.Honestly, if the restrictions remain in place and the NDC doesn't find other ways of campaigning the incumbent will be advantaged if election is held.
Whenever I close my eyes I see my life improving significantly under an NDC government and this informs my decision to fight passionately for the cause of the NDC. Sometimes, we even appear bad in the eyes of our own comrades, all for the good of our party. I have no personal preference for who becomes the running mate but I strongly believe that a running mate will inject some energy into an otherwise weird and half dead 2020 electioneering campaign.
I know JM means well and he will be the biggest loser if the election is lost, God forbid. All the same, my little suggestion in my small corner is that he must open his eyes. Akufo Addo is not only fighting coronavirus, he is making things rather difficult for JM to win against him. If things stay as they are, then the NDC is in serious trouble as far as the December 7 election is concerned.