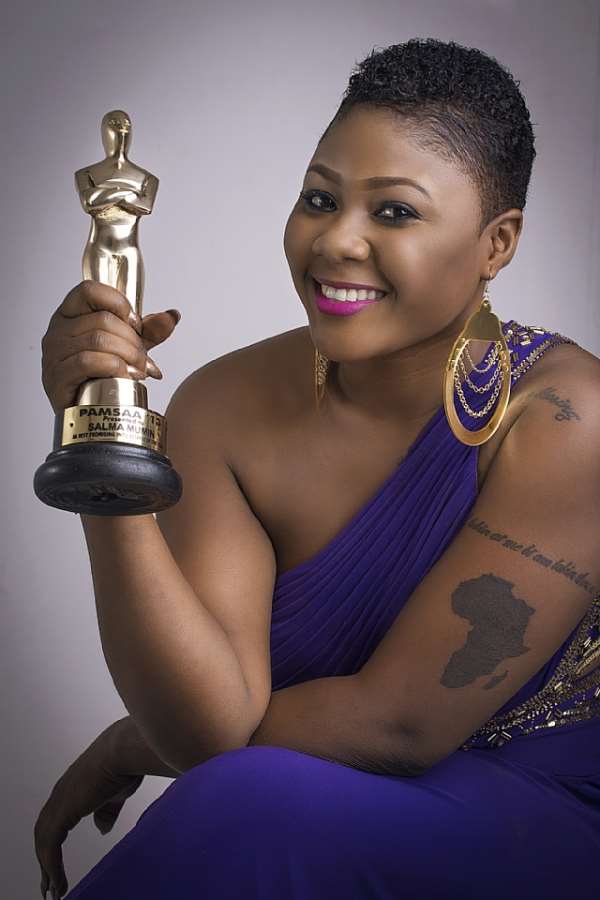 Awarding an artiste is another way of honoring him/her as well as a form of motivating other actors to do better.
Salma Mumni is one of the few movie stars who has been in the industry for long but have not been honoured or received any awards yet. To her, though she has been active and also attended almost all the award schemes in the industry, she doesn't feel disheartened each time she doesn't get an award.
Addressing the media after she won her first award - The Papyrus Magazine Screen Actors Awards (PAMSAA) in Nigeria, she said that, "I have been nominated in the City People Awards once, before but I didn't win. It didn't discourage me though.It rather motivated me to work harder and after 5 years, here I am with my first award 'Best Promising International Actress of the year, which is supposed to be the second nomination I've ever had in my chosen profession after many years. I am very grateful. I will forever cherish it" Salma Mumni shared.
Talking about the Papyrus Magazine Screen Actors Awards (PAMSAA) which is the child of Damsa Mege Business Ltd, the Publisher of the famous Papyrus Monthly Magazine initiated in 2012 by Hon. (Mrs). Doofan Abu-Amai, the publisher of the magazine appreciated the efforts of those industries that started out of nothing and have transformed into what it is now, thus, becoming a major source of employment to thousands of youth in Africa.
She used the opportunity to thank God for how far he has brought her. She thanked the organizers, her fans, movie producers and her mother for their support too.
Apart from Salma who won the PAMSAA Awards, celebrities like Van Vicker, Roselyn Ngissah, and Martha Ankomah respectively, also had their share of the awards. You can view the list of the winners below:
PAMSAA honours the best in the movie, media, comedy and music industry in Africa. Last year it honours Nigerians and ghanian only. This year PAMSAA extend it honours to Kenyans. Last year only 20people were honoured but this year PAMSAA honoured about 50 celebrities across Africa.
Celebrities honooured this year include: Gov. GODSWILL AKPABIO-BEST ENTERTAINMENT SUPPORTING GOVERNOR OF THE YEAR
MO ABUDU-MOMENTS WITH MO –BEST AFRICAN TV TALK SHOW OF THE YEAR
DESMOND ELLIOT- NOLLYWOOD BEST ACTOR OF THE DECADE
SANI DANJA-BEST NOLLYWOOD HAUSA ACTOR OF THE YEAR
YAKUBU MOHAMMED-BEST NOLLYWOOD HAUSA DIRECTOR OF THE YEAR
VAN VICKER-BEST IN'L ACTOR OF THE YEAR
JACKIE APPIAH-BEST INT'LACTRESS OF THE YEAR
NSE IKPE ETIM- NOLLYWOOD BEST ACTRESS OF THE YEAR
YUL EDOCHIE-NOLLYWOOD BEST ACTOR OF THE YEAR
MARTHAANKOMAH-BEST GHANIAN ACTRESS OF THE YEAR
PRINCE DAVID OSEI-BEST GHANINAN ACTOR OF THE YEAR
LIZZ NJAGAHBESTKENYAN ACTRESS OF THE YEAR
HENRYGITAUNGOGOYO-BEST KENYAN ACTOR OF THEYEAR
BLESSING EFFIOM EGB- BEST PRODUCER OF THE YEAR (LEKKI WIVES)
YVOONNE NELSON-MARRIED AND SINGLES BEST GHANIAN MOVIE OF THE YEAR)
BRIGHT WONDER- (BROKEN) BEST NIGERIAN MOVIE OF THEYEAR
SEUN OLAGUNJU-BEST NEWSCASTER OF THEYEAR
NANCY ILLOH-MONEY SHOW (BEST ECONOMY TALK SHOW OF THE YEAR)
WAJE-BEST FEMALE VOCAL ARTIST OF THE YEAR
BANKY W-BEST RNB ARTIST OF THE YEAR
DAVIDO "GOBE" BEST SONG OF THE YEAR
MI- BEST RAPARTIST OF THE YEAR
TUFACE IDIBIA- "AWAY AND BEYOND" BEST ALBUM OF THE YEAR
CHRIS MORGAN- BEST GOSPEL ARTIST OF THE YEAR
JAMLA UMAR-BEST NOLLYWOOD HAUSA ACTRESSOF THE YEAR
ADAMS AZONGO-BEST NOLLYWOOD HAUSA ACTOR OF THE YEAR
HELEN PAUL-BEST FEMALE COMEDIAN OF THE YEAR
KLINT DA DRUNK-BEST MALE COMEDIAN OF THE YEAR
EKU DEWOR-BEST PRESENTER OF THE YEAR
WAZOBIA FM- BEST ENTERTAINMENT PROMOTIONAL TV OF THE YEAR
SILVERBIRD TV-BEST ENTERTAINMENT TV OF THE YEAR
CKN-CHRIS KEHINDE- BEST ONLINE NEWS SOURCE OF THE YEAR
GLOBACOM NIG LTD-BEST ENTERTAINMENT SUPPORTING BRAND OF THE YEAR

VICTORO SUAGWU-BEST NOLLYWOOD COMIC ACTOR OF THE YEAR
IFEOMA OKEKE-BEST NOLLYWOOD ACTRESS OF THE YEAR
ROSELYN NGISSAH-BEST INT'L SUPPORTING ACTRESS OF THE YEAR
LYNDA CLEMS-BEST NOLLOWOOD SUPPORTING ACTRESS OF THE YEAR
JONIOR POPE-BEST NOLLYWOOD SUPPORTING ACTOR OF THE YEAR
TOOSWEET ANNAN-BEST GHANIAN PROMISINGINT'L ACTOR OF THE YEAR
SALMA MUMUNI-BEST GHANIAN PROMISING INT'L ACTRESS OF THE YEAR
COLLETTE ORJI-BEST UPCOMING ACTRESS OF THE YEAR
RACHEAL EDJAREN- BEST UPCOMING PRESENTER OF THE YEAR (present)
PAUL CHUMS OKOLI- NOLLYWOOD MOVIE MARKETER OF THE YEAR
ICE PRINCE ZMANI BEST MUSCIA OF THE YEAR
CHOCOLATE CITY BEST MUSIC RECORD LABEL OF THE YEAR(Represented)
PASCAL AMANFO BEST MOVIE DIRECTOR OF THE YEAR
MIMIDOO BEST NATIVE COMIC MOVIE OF THE YEAR (present) produced by Mr. and Mrs Paul Apel
By :: Mustapha A Inusah/Attractive/GhanaState.Com