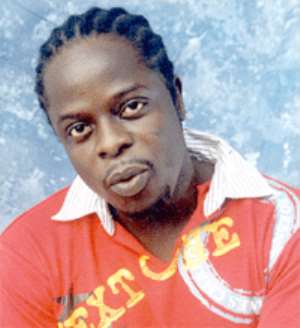 ...after taking ¢8m performance fee Rather than using the high profile TESCON " From me to you" concert to redeem himself of the string of bad-boy pranks that Ofori Amponsah has been involved in of late, the top Hiplife artiste last weekend pulled off what is his biggest blunder yet- He didn't turn up to perform for President Kufuor.
On the bill was a choice selection of artistes representing a range of musical styles in Ghana- Amakye Dede, Paapa Yankson, Wulomei, 4x4, Slim Buster, Ras Tonto, Kofi Nti and Ofori Amponsah.
When it was his turn to perform the 'Otoolege' man, Ofori Amponsah was nowhere to be found.
" It was the most embarrassing moment for us, a distraught Leroy, head of the organizing team told the Graphic Showbiz.
He said the whole of last Saturday; he could not contact Frank Agyekum, manager of Ofori Amponsah and Kofi Nti.
Leroy said although Agyekum will not pick his calls he believed that once he had collected the performance fee of ¢8 million, Ofori Amponsah and his stage mate, Kofi Nti will turn up at the show. That was not to be.
Performer after performer came and left.
President Kufuor flanked in his front seat by minister of Presidential Affairs, Kwadwo Mpianim and NPP youth organiser, Yaw Boadu appeared to be having a good time.
Obviously he does not receive such musical treats often.
Amakye Dede was particularly good on the night as he played with his full band and getting everyone, including the president, to be on their feet and dancing to 'iron boy'.
Past midnight and well into the early hours of Sunday morning, when it became obvious that Ofori Amponsah and Kofi Nti were not going to show up, the party wound down.
Two days afterwards when manager Frank Agyekum's phone line had sprang to life, he told the Showbiz that he had been unable to convince Ofori Amponsah to accept the ¢8 million performance fee.
According to Agyekum, Ofori Amponsah had insisted on a performance fee of ¢15 million.
And did Agyekum return the fee to the organizers? His answer is 'no'.