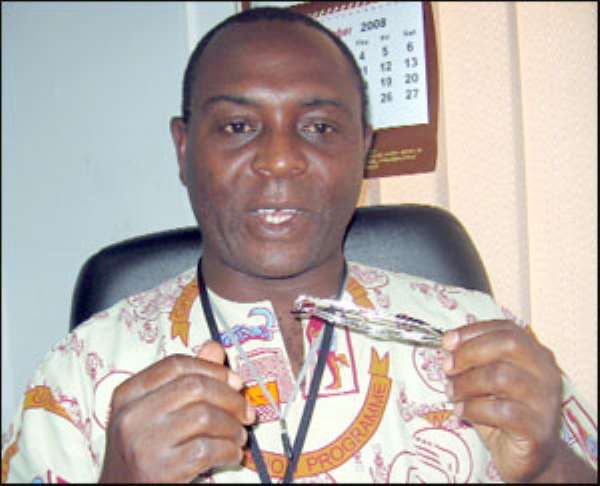 THE WORLD Health Organisation (WHO) in collaboration with the Programme for Appropriate Technology in Health (PATH) has through its Meningitis Vaccine Project (MVP) developed a new vaccine for the effective treatment of Meningitis.
The new vaccine, Meningococcal 'A' Vaccine, yet to be introduced, is said to be more effective than the existing Polysaccharide vaccines introduced about two decades ago.
Dr. Harry Opata, WHO Country Advisor in-charge of Communicable Disease Prevention and Control told journalists in Accra that the introduction of the new vaccine formed part of efforts by researchers worldwide to eliminate epidemic Meningitis as a public health problem.
Meningitis, an infection of the fluid surrounding the brain and the spinal cord, is said to have already claimed more than 25,000 lives in Sub-Saharan Africa alone with as many as 500 million more people at risk of getting infected.
The disease is caused by a virus or bacterium called Haemophilus Influenzae, Streptococcus pneumoniae or Neisseria Meningitis.
Dr. Opata said not only would the new vaccine be affordable and long-lasting, but it would also be 20 times more effective than the existing vaccines which do not always protect infected persons against all forms of carriages such as nasopharyngeal carriage.
"The repeated doses of capsular Polysaccharide vaccines have also been associated with hypo-responsiveness as they do not decrease the transmission of the organism in the population.
"They have limited efficacy in young children and do not provide long-lasting protection."
Explaining how the disease is transmitted, he said Meningitis is a highly infectious disease which could be spread from one person to another through the exchange of nose and throat secretions during close or intimate contacts.
"Sharing eating or drinking utensils, cigarettes, lipstick, toothbrushes or musical instruments with mouthpieces; sneezing or coughing on someone as well as kissing facilitate the spread of the disease.
"Individuals who share close quarters such as military recruits, prisoners and students living in dormitories are at a higher risk."
Meningitis, he explained, kills faster than HIV and Malaria combined, hence the need for people to get treated as soon as symptoms are detected.
Symptoms include severe fever, stiff neck, intense headache, vomiting, and drowsiness which could develop over several hours or may take one or two days.
Infected persons could die within three days if treatment is delayed.
"Several conditions have been associated with the development of epidemics in the Meningitis belt; they include medical, demographic, socio-economic and climatic conditions."
Dr. Opata further explained that Meningitis mostly develops during the dry or harmattan season.
The meeting, also addressed by Dr. Hodgson of the MVP, was a 4-day media workshop attended by participants from Ghana and other English-speaking countries.