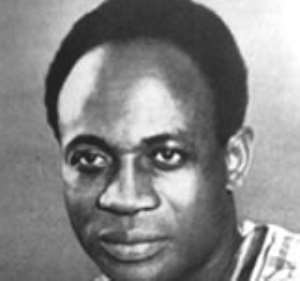 Osagyefo Dr Kwame Nkrumah, Ghana's first president
Osagyefo Dr Kwame Nkrumah, Ghana's first president, whose centenary is being marked on Monday, was born on September 21, 1909, at Nkroful in the Western Region.
He attended Achimota School and also trained as a teacher. He went to the United States in 1935 for advanced studies receiving a B.A. from Lincoln University in 1939.
He also received an STB (Bachelor of Sacred Theology) in 1942, a Master of Science in education from the University of Pennsylvania in 1942, and a Master of Arts in Philosophy the following year.
While lecturing in political science at Lincoln he was elected president of the African Students Organization of America and Canada.
Dr Nkrumah continued his schooling in England, where he helped to organise the Fifth Pan-African Congress in 1945.
Then he founded the West African National Secretariat to work for the decolonization of Africa. Nkrumah also served as Vice-President of the West African Students' Union (WASU).
During his lifetime, Nkrumah was awarded honorary doctorates by Lincoln University, Moscow State University, Cairo University, Jagielloniaan University in Krakow, Poland, and Humboldt University in former East Germany.
Dr Nkrumah was invited to serve as the General Secretary to the United Gold Coast Convention (UGCC) under Dr Joseph Boakye Danquah.
He returned to Ghana in 1947 to take up the position but split from it in 1949 to form the Convention People's party (CPP).
In February 1948, police fired on ex-servicemen protesting the rising cost of living and the shooting spurred riots in Accra, and Kumasi and elsewhere.
The colonial government suspected the UGCC was behind the protests and arrested Dr Nkrumah and other party leaders.
Realizing their error, the British soon released the leaders. After his imprisonment by the colonial government, Dr Nkrumah emerged as the leader of the youth movement in 1948.
After his release, Dr Nkrumah went round the country proclaiming that the Gold Coast needed "self-government now", and built a large power base.
On June 12, 1949, Dr Nkrumah led the formation of the CPP at Arena in Accra before a crowd of some 60,000.
He was made Chairman, with Komla Agbeli Gbedemah as Vice Chairman and Kojo Botsio as Secretary. Other members of the Central Committee included N.A. Welbeck, Kwesi Plange, Krobo Edusei, Dzenkle Dzewu and Ashie Nokoi.
Dr Nkrumah declared "positive action" on January 8, 1950 in front of a large CPP crowd at a public meeting in Accra. He travelled to Sekondi, Cape Coast and Takoradi to repeat it.
The colonial government declared a state of emergency effective January 12, 1950 and prohibited the holding of processions, imposed curfews and disconnected public services in certain areas.
Dr Nkrumah was arrested on January 21, 1950, tried for inciting an illegal strike and sedition for an article in the Cape Coast Daily Mail and sentenced to three years imprisonment.
Mr Gbedemah kept the party running and was in constant touch with Dr Nkrumah who was held at the James Fort prison from where messages were smuggled out on toilet paper to the party headquarters.
While in prison, Dr Nkrumah led the CPP to achieve a stunning victory in the February 1951 elections.
He was freed to form a government, and he led the colony to independence as Ghana in 1957.
A firm believer in African liberation, Nkrumah pursued a radical pan-African policy, playing a key role in the formation of the Organization of African Unity in 1963.
At home, he led a massive socio-economic development that saw the springing up of infrastructure across the country.
As time passed, he was accused of being a dictator and in 1964 also of forming a one-party state, with himself as president for life as well as actively promoting a cult of his own personality.
Overthrown by the military in 1966, with the help of Western backing, he spent his last years in exile, dying in Bucharest, Romania, on April 27, 1972. His legacy and dream of a "United States of African" still remains a goal among many.
Ghana / Africa / Modernghana.com