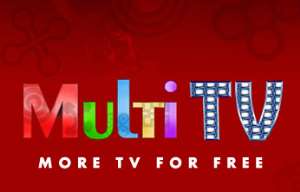 MULTI TV - FACT SHEET
WHAT IS MULTI TV?
MULTI TV is a stunningly new Free-To-Air Multiple channel Digital Direct To-Home TV service.
Multi TV is another exciting media offering from the MULTIMEDIA GROUP, the indigenous Ghanaian company that brought you JOY FM, ADOM FM, MYJOYONLINE.COM and 5 other great media brands.
We are committed to:
DIGITAL TV ACCESS FOR ALL: We believe that quality digital TV should be accessible to everybody; not just reserved for the privileged few. Multi TV brings world class entertainment from across the world into every home.
LOCAL PRODUCTION: While Multi TV will feature the best of international content, we will consistently support and actively promote local content production and broadcast.
WHAT CHANNELS DO I GET?
Multi TV is currently offering great choice in a bouquet of 20 stunning TV & radio channels. This will gradually grow to over 200 channels in the future.
Our 7 day 24 hour on-screen program guide makes it easy to choose what to watch and listen to anytime.
We also have the capacity to deliver HD (high definition) transmission in the future. HD will give you up to 5 times more picture detail than standard TV.
With this, you will get deeper, richer, more lifelike pictures plus awesome surround sound that puts you at the centre of the action.
HOW DO I "TUNE IN" TO MULTI TV?
To receive and enjoy our programmes, you will be required to install a Digibox and a KU-Band satellite dish. We recommend that you deal with our preferred dealers.
WHAT IS A DIGIBOX & WHERE CAN I ACQUIRE ONE?
It is an MPEG 4 Digital Set-Top Box that enables you to watch the digital signals on your TV set. Digital signals give superb quality sound and crystal clear quality pictures.
You may acquire one from any of our preferred dealers or call Multi TV on 021-211680-5. You may also visit our site: www.multitvworld.com for a list of our preferred dealers.
The basic Digibox starts from GH¢150.00.
The basic full kit [basic Digibox + Dish] plus installation starts from GH¢205.00.
The premium full kit [premium Digibox + Dish] plus installation starts from GH¢250.00.
CAN I USE ANY SATELITE DISH TO RECEIVE MULTI TV SIGNAL?
You can use any KU-Band dish but we recommend a 90cm dish
AM I REQUIRED TO PAY ANY SUBSCRIPTIONS OR MONTHLY FEES?
NO! It is FRRREEEEE… you will not pay subscriptions or monthly fees ever.
DOES YOUR SERVICE HAVE PARENTAL CONTROL FEATURE?
Yes it does… Our Parental Control feature allows you to restrict access to any program that you do not want your children to watch.
This means a password is required to watch certain categories of programming.
WHERE CAN I GET MULTI TV RECEPTION?
Multi TV is for everyone and is everywhere! Multi TV offers true nationwide coverage from the northernmost to the remotest part of Ghana.
CAN I USE MY REDUNDANT [GBS, DSTV etc] DISH TO RECEIVE THE SIGNAL?
Yes, you can, but you need an installer to re-align your dish to receive the Multi TV signal and you would still need to acquire a Multi TV Digibox.
CAN I USE MY DSTV DISH WITH THE MULTI TV DIGIBOX TO RECEIVE THE MULTI TV SIGNAL AND STILL WATCH MY DSTV?
NO.
Multi TV is on a different satellite.
To watch both services, you will require another dish directed to the Multi TV signal.
DO YOU HAVE DUAL VIEW FEATURES?
Yes. This is available on the premium Digibox. The dual view premium Digibox enables you to record your favorite programmes and also watch different channels in different rooms.
CAN I OPERATE MY OWN CHANNEL ON YOUR PLATFORM?
Yes any organization [e.g. church, independent producer, football club or existing TV operator etc.] may acquire a dedicated channel in our bouquet.
Contact the General Manager on 021-211680-5.
WILL THE PICTURE BREAK OR IS THE SIGNAL LOST WHEN IT RAINS? IS THERE ANYTHING ONE CAN DO TO STOP THAT?
This is known as "rain fade" and it affects all satellite broadcast systems during heavy rain.
MULTI TV ensures that under most circumstances our cherished viewers are not affected by this. However in heavy rain it can sometimes be unavoidable.
To check that you have a good signal in normal weather conditions, you can view both signal strength and quality levels on the Installation satellite scan menu.
Signal strength should exceed 86% and signal quality should exceed 68% in clear weather.
WHO SHOULD I CONTACT IF THERE IS A PROBLEM?
Contact your dealer/installer or call Multi TV on 021-211680-5 or
Visit us online: www.multitvworld.com
Join the Multi TV Family –––––stunning world class TV for EVERYONE
MULTI TV: MORE TV FOR FRREEEEE