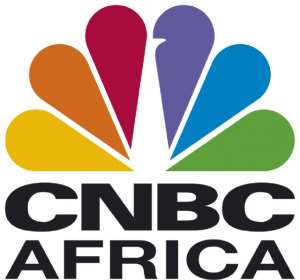 This month sees another exciting development for DStv audiences across the continent as the operator expands its channel line-up with the addition of leading business news channel CNBC AFRICA.
The continent's first 24 hour international business channel, CNBC AFRICA will now be available to DStv Premium, Compact and Family subscribers in Angola, Benin, Burundi, Cameroon, Cote D'Ivoire, Congo, DRC, Equatorial Guinea, Gabon, Ghana, Kenya, Nigeria, Rwanda, Tanzania, Togo and Uganda, following on from its earlier launch across Southern Africa.
Delivering real-time information and insightful analysis about African business and Africa's financial markets, CNBC AFRICA also presents regular updates from CNBC affiliates around the world including Europe, Asia and the US.
Offering a unique global perspective from an African platform, CNBC AFRICA features news and current affairs programming with regular updates throughout the day. Viewers can also tune in for political perspectives that shape African business along with lifestyle programmes and interactive talk shows as well as a closer look at Africa's personalities.
Presented by experienced anchors and journalists from across the continent, including bureaus in Johannesburg, Nairobi and Lagos, it is essential viewing for those who want to understand the business of Africa. In addition, the channel can be described as the business channel of choice for affluent and influential Africans, from business leaders and senior government officials to corporate decision-makers and the continent's entrepreneurs.
Available on DStv channel 410, CBNC AFRICA includes continental programming such as Africa this Week, Africa's Boardroom, Africa's Entrepreneurs, Doing Business in Africa, Kenya Business Report, Markets Africa, Business AM and Nigeria This Week.
On the international front, programs include Luxury Life, Managing Asia, Managing China, [email protected], The Leaders, The Wall Street Journal Report, Business This Week, CBNC Cash Flow, CNBC Specials, Capital Connection, Power Lunch, The Tonight Show with Jay Leno, US CBNC Squawk Box, US Closing Bell, US Street Signs, Women in Business, World Business and Worldwide Exchange.
Drawing on an array of talented newsmen and women from across Africa and the globe, presenters and anchors on CNBC AFRICA include Bronwyn Nielsen, Lerato Mbele, Alishia Seckam, Eleni Giokos, Fenly Foxen, Mandlakazi Mphahlwa, Christine Tan, Maria Bartiromo, Geoff Cutmore and Simon Hobbs, as well as Terryanne Chebet in Kenya and Uche Okoronkwo in Nigeria.
Along with premier business news programming on CNBC AFRICA, DStv audiences also have access to the following news channels - CNN, BBC World, Sky News, Euronews and Al Jazeera. For more information on how to get connected to DStv, log on to www.dstvafrica.com and for information on CNBC AFRICA, log on to www.cnbcafrica.com.