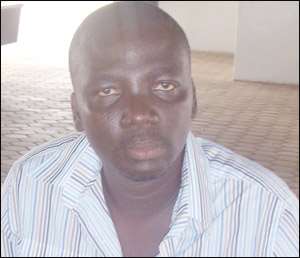 THE CHIEF EXECUTIVE of Goodies Production, Isaac Abeiku Aidoo was yesterday sentenced to 13 years' imprisonment in hard labour by an Accra Circuit Court for attempting to export 80 pellets of cocaine to London after he changed his plea to guilty.
The trial of the accused person came to an abrupt end when in his defence he apologised and prayed the court presided over by Mahamadu Iddrisu to deal leniently with him as he had never intended to engage in any drug business.
The trial judge did not waste time in sentencing the accused person, known in showbiz circles as Goodies, to 13 years each on two counts of possessing and attempted exportation of narcotic drug without lawful authority; but the sentences are to run concurrently.
In an emotional speech before the verdict was announced, the music producer stated: "My Lord I'm not a drug dealer and have never involved myself in any drug problem. I don't smoke and don't drink and so do not know how on earth I put myself in such trouble. I was surprised when I was told it was cocaine because I did not even know what I was carrying. I am humble and don't put myself in such trouble".
Goodies, still in a remorseful mood and pleading for mercy, further said: "I have a young family and feel sorry for putting myself in such a situation. I am also sorry for disappointing my family".
Just as he finished saying these words he turned to his wife who was already weeping, and also broke down in tears.
Narrating how it all started, Goodies told the court that a friend in London by name William, who is a spiritualist, asked him to bring something he actually did not know, to him in London when he was about to travel there to raise funds for the Ghana Olympic Committee in the lead-up to the Olympic Games in China.
He revealed that his friend told him not to allow anybody to see the thing as it was for spiritual purposes promising to pay him £3000.
He said with the amount involved, he did not even think about what it entailed and he agreed to it.
Goodies stated that on April 23, 2008 when he arrived at the Kotoka International Airport to board a flight, the Narcotics Control Board officials on duty called him and asked for his particulars and in the process told him they suspected he was carrying narcotic drugs.
The music producer said he denied it and even requested that an X-ray examination be conducted on him to ascertain the truth.
He stated that after the X-ray at the 37 Military Hospital, he was informed he had narcotic drugs in his stomach for which he was sent to NACOB office where he expelled the pellets of drugs.
According to Goodies, he was informed later by NACOB officials that when the substance was sent to the Ghana Standards Board it proved positive for cocaine.
Pleading mitigation for his client, Oliver Atsu informed the court that the accused, a father of three children including twins, was a popular music producer who had produced top stars such as Lord Kenya, Tictac, VIP, Sydney, Nana Kwame, Tony Tetuila, Mzbel and 2face.
He further stated that Goodies was a known philanthropist who had an NGO that promotes HIV issues and was very generous to all manner of persons.
According to him, the accused who was a first offender, since he was arrested had co-operated with the police and that although he had fallen foul of the law, the court should temper justice with mercy by giving him the minimum sentence.
Justice Iddrisu however failed to give Goodies the minimum sentence of 10 years disclosing that if the accused had pleaded guilty at the initial stages without the case travelling that far, he could have granted it.
According to the judge, Goodies as a role model had an onerous responsibility to steer clear of trouble and that his sentence should serve as a deterrent to other role models so they would not countenance drugs in whatever situation.
By Mary Anane