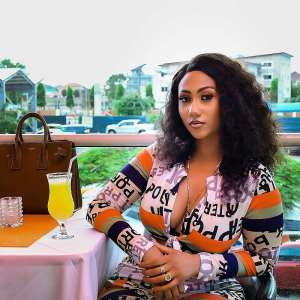 Ghanaian socialite and musician, Hajia4Real is planning to break her silence soon, saying "enough is enough."
The cryptic message was shared by the celebrity on her Snapchat account, hinting at a forthcoming explosive.
In her posts, Hajia4Real conveyed a message of determination and resolve, stating, "It always seems impossible until it is done hmm. If I start talking… At the right time, I will talk! Enough is enough!"
While the nature of her impending disclosure causing anxiety, some speculate that it may be related to her ongoing court case in the United States.
The socialite, also known as Mona Faiz Montage or Mona4Real, has been embroiled in a legal battle in the U.S. over her alleged involvement in a $2 million romance scam that targeted older, single Americans.
Hajia4Real was arrested in the United Kingdom in November 2022 and subsequently extradited to the United States to face the charges.
U.S. Federal prosecutors claim that the 30-year-old musician made an appearance in Manhattan federal court on May 15, 2023, regarding her alleged role in the scam.
She was reportedly granted bail under house arrest conditions.
The last time Hajia4Real was active on Instagram was on her birthday, during which she hinted at her imminent return to Ghana, expressing her hope for a favorable resolution to her legal troubles.
Speculations have arisen suggesting that Hajia4Real's jail term might be reduced, and certain charges might be dropped if she provides information about higher-ranking individuals allegedly involved in the fraudulent enterprise she is accused of being part of.