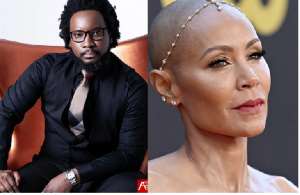 Ghanaian Gospel singer Sonnie Badu has labelled the wife of American actor Will Smith as Jezebel following the back to back scandals he has been faced with since their marriage.
His reactions come after the actor's two decade plus career is drawing to a period of jeopardy after his bad conduct at the just ended Oscars.
As it stands, Will Smith is being faced with lots of losses after he resigned from the Oscars Academy and his movie projects with Netflix, Bad Boys, Biopic, and others are all being put on pause.
Earlier on, Jada Pinkett Smith had gotten many talking after it was revealed that she had an amorous affair with young singer August Alsina.
At a close look at the situation, Chris Rock who was slapped by Will Smith after pulling out a joke on Jada seems to be having a good time after his upcoming comedy tour has been declared a sold-out one.
August Alsina, on the other hand, is close to landing a deal that involves a lot money with publishers to detail his love affair.
Analysing the situation, Dr. Sonnie Badu has joined a host of netizens who lambasted Will Smith's wife, Jada Pinkett Smith who they say has been a destruction to the Fresh Prince of Belaire.
He was reacting to a post by Nigerian entertainment critic Daddy Frees who brought Will Smith's predicament on board for discussion.
It is recalled that Will Smith slapped American comedian Chris Rock who made a joke about his Wife Jada Pinkett's hair loss.