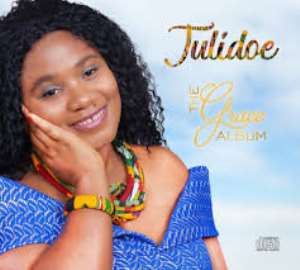 Julidoe known in private life as Juliet Patience Amuzu, now called Mrs.Juliet Gadogbe was featured in this year's Council of Ewe Associations of North America (CEANA) 2020 virtual convention.
The powerful and gifted gospel artist performed alongside Agboti Yao and many ewe artists during the convention.
The annual convention by The Council of Ewe Associations of North America (CEANA) held from September 4th to 7th 2020 is the 27th convention on the theme: Resolve to continue The Socio-Economic Development of Eweland. This years' convention has taken an unconventional form as it was hosted virtually due to the global pandemic.
The annointed gospel minstrel had put up a great and powerful ministration that was streamed live on YouTube & Facebook to global audience of the convention that was held for 3 days.
Julidoe is known to be a worshipper and a minstrel of the gospel. She always seize any giving opportunity to minister to God's people and draw them closer into God's Presence and the CEANA stage was not an exception.
No wonder the Mc Mr. Alfred Amuzu introduced her as a "great woman of God who will bring the heavens down"
The US based minstrel is the founder of Julidoe Ministries which seeks to draw people closer to God through ministrations and other revival outreaches.
The "Akpe" hit maker Julidoe, also released a powerful album titled "The Grace Album " in November 2019 which features great songs like Send down your rain, Holy Name , Amenuveve and many more which are available on Spotify, Amazon, ITunes, Google Play and all digital platforms.
Watch below, the video of Julidoe's ministration at CEANA 2020 virtual convention and follow her on social media