Strika Of " Beast Of No Nation" Fame Abandoned To Beg For Survival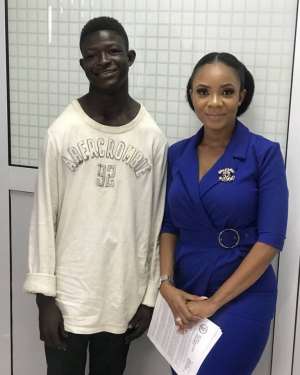 Reports reaching odarteyghnews.com indicates that Emmanuel Nii Adom Quaye alias Strika, the kid who played in the infamous 'Beast of No Nation' movie alongside Abraham Attah is now a beggar on the streets of Accra.
A Facebook user by the name Caleb Nii Boye made the sad revelation on his Facebook account on Monday morning.
The post read; "I am sad this morning. I was heading to the Ghana Institute of Journalism campus and I met Striker. You would ask who is Striker? Striker starred in the movie Beast of No Nations. The said film that made Abraham Attah. Today I met him begging for money on the road leading to GIJ. I called him and brought him to campus. Speaking to him he tells me he now works with a gentleman who sells Yam at Agbogbloshie Market. He stays with his grandma at North Kaneshie".
In an interview with Serwaa Amihere of GhOneTv, Strika revealed that all the kids who shot the movie have been well taken care of except him in terms 0f payment.
Strika further stated that " I was told i was paid 30,000 but i don't know if it was in cedis or dollars , i was a child then so the producer by name Zoey open the account for me. I have stopped schooling because it's difficult for me hence i want to learn a trade so i left Cape-coast to Accra. My parents are dead so i stay with my grand mum who takes care of me"
This revealation comes as a shock to Ghanaians since Kobina Amissah-Sam in an interview with MzGee on Hitz FM in 2016 said all the kids who took part in the movie have been well taken care of.
He is reported to have said "They have not been forgotten, they have really been taken care of. They are not lacking now as they used to so everything is cool for them now. He has never been in school before but after the production, producers of the movie felt that they have to put him in school. I don't think that it is Netflix that is taking care of them, it is the producer who wants to help the kids. He is taking care of the three kids, Abraham, Striker and there is one other guy called Justice who stepped on Agu's head when he was caught"
Watch full interview below;