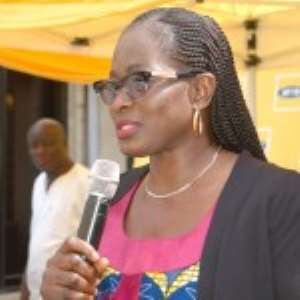 Cynthia Lumor
Ten individuals engaged in an extraordinary charity activity in Ghana would tonight compete for a cash amount of GH₵100,000, courtesy MTN, at the finals of the 2015 edition of MTN "Heroes of Change".
The ten finalists were shortlisted from a list of over one thousand nominations received nationwide to compete in the 'Heroes of Change' programme which seeks to unearth and give recognition to individuals in society who are making a positive impact within the areas of health, education and economic empowerment.
The overall winner of 'Heroes of Change' will this year receive an amount of GH₵100,000 while each of the category winners for the three focus areas will receive GH₵20,000.  The other seven finalists will be given GH₵5000 each to support their works. 
In addition to these prizes, the public will have the benefit of donating to any of the ten shortlisted projects through SMS and MTN Mobile Money. This way, the public gets a chance to support the work of the identified heroes who will be showcased on TV.
The winner for last year, Dr Abrokwa Yankyera, a plastic surgeon and founder of the Graft Foundation, received a cash prize of GH₵50,000. This enabled him to treat more patients in the Volta and Eastern Regions of Ghana.
The ten shortlisted finalists include Dr Emmanuel Bidzaikin who established the only hospital in Nakpanduri, a community in the Northern Region.  The 37-year-old doctor funds the hospital from his private purse and donations from individuals, especially Emmanuel Quartey, founder of the JAYNII Streetwise Foundation in Accra.
.
The rest are Isaac Adjaottor, a community health worker at Ada Foah who is into rural community development, and Nayina Karim, a 46-year-old social entrepreneur. He established a rehabilitation centre for malnourished children at Karaga in the Northern Region.
Also on the list is Nicholas Kuma, who has established a child advocacy group which provides education, healthcare and other needs a child might have. She is based at Bolgatanga in the Upper East Region.
Another finalist is Pastor Joseph Jehu-Appiah, a pastor at the Victory Bible Church (Elohim Sanctuary). He set up the Mephibosheth Training Centre solely dedicated to caring for disabled children within the society. The children are schooled at the centre and are provided clothes, food and shelter.
There are also Paul Semeh, a social worker in Accra, who has established the Streetwise Children Empowerment Fund, and Paulina Opei, aged 57, a nurse by profession. She has an orphanage at Anwia Nkwanta in the Ashanti Region for abandoned children.
There is also Salome Francois, founder of the New Horizon School at Cantonments in Accra. It is a not-for-profit charity institution that provides day school education for children and vocational training and employment for adults who have intellectual disability. Persons with other disabilities like spastic, cerebral palsy, visual impairment, hearing impairment, etc are also admitted so long as their primary disability is learning difficulty.
Another finalist, Yvonne Boaduaa, runs an NGO called Nyakonton Rehab at Begero in the Eastern Region. She self-finances the facility which provides training and housing to persons living with disability.  The aim is to equip them with some vocational and technical skills needed to earn a living. The beneficiaries use these skills to make items, sell them and use the profit for their upkeep.