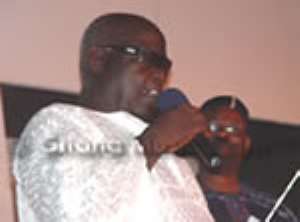 Another year has come, another Ghana Music Award ceremony is here again - A celebration of all that's good in Ghanaian music and more.
As part of its activities lined up, Charter House, the franchise holders of Ghana Music Awards hosted all the nominees, sound engineers, managers and more to a Gala Nite where seven awards were awarded.
The evening featured high dignitaries like Tunde Bayo of Lighthouse UK, South Africa Music Promoters, EMI, Alhaji Sidiku Buari, Ovation CEO, a representation from Kennis Music, Wayoosi, Giles Bossman, Radicle B and more.
Nkasei got the Novotel Hotel poolside fired with two songs from their current album.Some music record label owners 'felt bad' at the 'bizarre way' in which the awards were given to some award winners.
Example was Lexifri who won the Record label of the Year and Morris winning Sound Engineer of the Year.
The Selection Committee has stated that for a record label to be nominated it must have the most award-winning artistes in the year 2004 to which everyone thought was Big Ben who had a lot artistes as compared to Lexifri who has only one.
Yes folks, the Ghana Music Awards 2005 is all this and more. Questions have already started arising at the Gala Nite and everyone can wait to see what happens at the Conference Center on Saturday on 30th April.
The winners for the nite are as follows:
Producer of the Year – J. B. Asafo (Soul Records)
Recording Engineer of the Year – Morris
Traditional Song of the Year – Alhaji
Traditional Group of the Year – Kusum Gboo Ensemble
Highlife Song of the Year – Lucky Mensah
Record label of the Year – Lexifri
MUSIGA Merit Award – C.K. Mann
Songwriter of the Year - Okomfoo Kwaadee
Source: Nii Atakora Mensah, Ghana Music.com