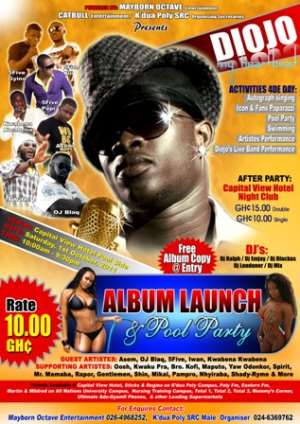 Ishmael Opoku Acheampong musically known as DIOJO formerly of Blaq Suede group fame is all set to launch his debut solo album – 'My heart Beat' inside Capital View Hotel Koforidua – Eastern Region on the 1st of October 2011.
The launch which also parades stars like ASEM, 5Five, Iwan, Kwabena Kwabena, OJ Black, Positive energy group (his former group partner Mr. M), among others will be set in a rotational roll in all the ten regions of Ghana.
In explaining the rotational roll of the album launch, Diojo said: 'it's basically about taking the much awaited album – 'My heart Beat' through all the regions where Ghanaians don't take music to and make them feel part of us'.
'My heart Beat' because I have worked so hard on this particular album, I spent thousands of time making sure that the debut is good hence this is what I breathe and a beat of music that I want fans to feel, Diojo' made known the reason for his choice of album name.
Activities scheduled to take place on the 1st of October are, autograph signing session, icons and Fans paparazzi, a pool party, artiste performance and Diojo's live band stage rocker.
It's the official launch of Diojo's heart beat inside Koforidua's Capital View hotel for only GHC10 and the time is 10am till u drop but fans should watch out for the after party with all the stars.
Story: Nana Yaw Wiredu/www.nanayaw18.com