Harmonious Chorale Musical Concert On June 30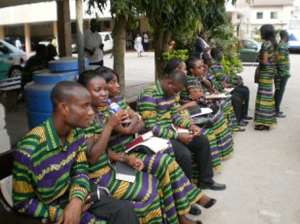 The much awaited Harmonious Chorale musical concert, dubbed the 'Creation', is scheduled to take place on June 30 at the National Theatre in Accra.
Harmonious Chorale has among its visions, to promote the musical composition of Ghanaian and African religious (church) musicians, to evangelize to the world through its melodious repertoires and tunes and most importantly become witnesses of the Lord Jesus Christ.
The concert, 'Creation', is an oratorio composed by Franz Joseph Haydn, and the Harmonious Chorale is the first choir to perform it in full in Ghana.
The Harmonious Chorale, since its formation in 2007, through dedication and hard work by its membership, has carved for itself an image and an identity. With matured voices, unity of purpose for ministration and dynamics, they thrill their audience and well-wishers and continue to treat them to soul inspiring repertoires.
The choir is under the chairmanship of Dr. Joyce R. Aryee, the Founder and Executive Director of Salt and Light Ministries, and the directorship of James Varrick Armaah, a composer and graduate from the School of Performing Arts- Music Department of the University of Ghana, Legon. James is ably assisted by brothers Eddie Gaisie and Albert Yankson.
By George Clifford Owusu