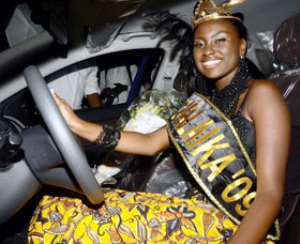 Gezelle Adai
EIGHTEEN-YEAR-OLD was last Saturday evening crowned as this year's winner of the prestigious of Miss Malaika pageant organized by Charterhouse.
The aspiring lawyer and international journalist, walked in the footsteps of Hamamat Montia, Miss Malaika 2007, as one of the youngest contestants to have won the pageant. From the beginning of the show it was obvious she was going to carry the day.
Most of the applause from the cheering crowd went in her favour. Gezelle stood out after she wowed the cheering crowd with her speech on the "can do spirit".  She also did quite well when she rapped during the talent display category.
However, like the other delegates, she could not properly handle a question put to the last and best five delegates, by MC Chris Attoh, regarding what necessitated the public's perception that beauty pageants are promiscuous, and if they do agree with that perception.
The delegates' answers beat about the bush, thus sending the crowd into a frenzy over who really deserved the crown in the end since that last question was to separate the best three from the last five.
Eventually Gezelle was given the nod. She drove home her brand new KIA Cerato, courtesy Rana Motors. She is also due a cash amount of GH¢4,800 annual salary and GH¢1,200 worth of talk time courtesy MTN, a year's supply of hair extensions, cosmetics, wardrobe and a whooping GH¢15,000 promotional contract also with MTN.
In addition, she will work as a malaria ambassador with the National Malaria Control Board and a charity icon for MTN.
Twenty-year-old Joan Amorin, a student of the Central University College, was crowned as the first runner-up and was also picked as Miss Congeniality by her fellow contestants.
Twenty-year-old Trudy Asamaniwa Arnold, a student of the University of Ghana, was the second runner-up. Victoria Massoud, a student of the Regent University won the Best Talent prize after portraying a war victim.
Both the Miss Congeniality and Best Talent segments attracted a cash prize of GH¢300.
The Malaika night was thrilling as there were music performances from Nigerian singer Wande Coal, 4x4, and Ghana's fastest rapper, Sarkodie.
In an emotional performance, Kunta Kinte of the duo Bradez made his first public appearance ever since he suffered a stroke earlier this year. He came on stage in a wheelchair but got up to rap his verse from the group's hit song 'Simple'.
The singer, who is recovering from the stroke with clear signs of paralysis in his limbs, was carried backstage afterwards in his wheelchair. The crowd gave him a resounding applause for his efforts on the stage.
The search for the "Most Beautiful Girl in Ghana" was sponsored by KIA, MTN, Darling, First Choice, Gino, UB and Forever Easy.
By Francis Addo