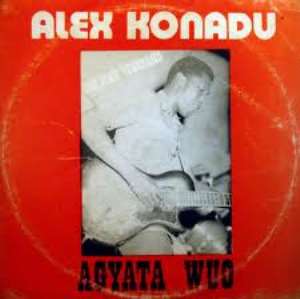 Ghana Music industry is losing a lot of it's influential pioneer highlife music stars and just last two weeks, the nation woke up in shock to the news that the man behind the great funeral song ASAASE ASE has joined the ancestors.
This article and a VIDEO MONTAGE ( check YOUTUBE-search PREKESE GhanaMedia) are a special dedication to a man who devoted all his life making music, educating the society, entertained a community and impacted a nation for positive and inspiring progress.
Alex Konadu until his passing was the current king of Ghanaian guitar highlife, a title which he unofficially inherited after the death of EK Nyame. He was loyal to Ghana, as well as a purist in his music, presumably avoiding newer influences (such as Afrobeat), and singing in the native Asante language, Twi. Konadu recorded over a dozen albums, but was better known for his live shows, in which he was known as the One Man Thousand, or One Man Army. A well-known claim is that he performed in every town and village in Ghana and it may very well be true. One of his releases is One Man Thousand – Live in London on World Circuit.
DETERMINATION, DREAMS AND HARD WORK
Alex Konadu was born in 1950 at Adwumakase Kese in the Kwabere No.3 District of Ashanti. Konadu started singing at an early age, and became the leader of the Kantamanto Bosco Group before moving on to the band of the well-known Kwabena Akwaboah. He honed his artistic skills there after three years moved to the Happy Brothers Band.
After two years Kwabena went 'solo' for some time, composing and practicing until he invited Mr. A.K.Brobbey -record dealer and producer- to listen to his rehearsals and he got signed and Brobbey organised a band. With their new, very uptempo guitar Highlife they had instant succes.
His ability to draw crowds wherever he went gave Konadu the appellation "One Man Thousand." Withstanding the vicissitudes of fame and fashion, and staying true to his vision of pure, unadulterated highlife music, he became an inspiration to Ghanaian musicians for years. While Konadu issued many wonderful recordings over the decades, Asaase Asa is still considered one of his most noteworthy achievements.

The 1976 album Asaase Asa (Brobisco KBL 016) was a breakthrough hit for Alex Konadu, establishing him as Ghana's foremost exponent of "roots highlife." The title song was based on a true story about Mr. Asaase Asa, who lost both his wife and sister when they were killed by a falling tree. It is dedicated to all who have lost their loved ones. Alex Konadu carved a special name for himself dedicating most of his songs in praise of the dead and his music is a must-play at any Ghanaian funerary.
AWARD
During the Entertaiment Critics and Reviewers Association's Honor to Deserving Artist the Band was Judged 'the Best Guitar of the Year 1976 of Ghana"
Wonderful Alex Kwabena Konadu, One Man 1000, The People's Choice Band released many records over a long period. Here are some of his creative works.
Agyaata Awuo
Pay Day
Emu Aso Dae
Due Oooo
Obi Aware Wo
Mene Me Aserene
Obiri Pajampram
Owuo Mpe Sika
Asaase Asa
Wo ewu Da Ho No
Fa Odo Behyia Me
Asem Edi Bone
Kwaku Firi

We are very saddened by his passing and on behalf of all Classic Highlife music lovers, we want to send our special condolence to the family of the great one. ASONOBA AGYA KWABENA DEHYE KRONKRON NYANSAKWABRA KONADU........Y3ma Abusua YAAKO.