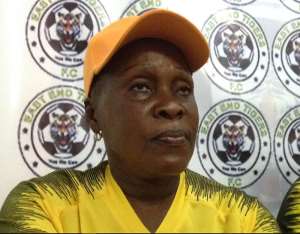 Victoria Conteh has made history in Sierra Leone as she becomes the first woman to coach a top tier men's team.
On Thursday, 19 December 2019, Conteh signed a two-year contract to manage East End Tigers, who play in the Sierra Leone Premier League. Conteh becomes the second female coach on the continent to coach a top-flight after Ethiopian Meseret Manni's stint with Dire Dawa in late 2015.
However, she will be hoping to follow in the footsteps of Chan Yuen-Ting, who guided Eastern to win the Hong Kong Premier League title in April 2016.
Her first game in charge was against favourites FC Kallon on Saturday (21 December), guiding Tigers to come back for a 1-1 draw and maintain their record of having never lost a game to Kallon in the league.
Conteh is a former Sierra Lone International and Captain of East End Lioness. She also served as Head coach of both the Sierra Leone's U-17 Women's team and the Sierra Leone Police Women's team.
Nicknamed "D'cox", she doubles as a CAF Instructor in addition to being the only CAF Licensed 'A' female coach in Sierra Leone.
Since her days as a member of technical staff of FC Johansen, she has acquired a wealth of coaching experience from Leone star's current Head coach Sellas Teteh Teivi and his Assistant John Kiester.
"My success in football, as a female coach in a male-dominated sport has however been linked to my passion and knowledge gained over the years. I'm super energized now than ever and very much determined to bring more laurels to my new club throughout my 24-month contract", she told the media at her unveiling.

"D'cox is knowledgeable about football, she is an outstanding coach and at East End Tigers, we are glad to be the only male Premier League football club in Sierra Leone and Africa at large to have appointed a female coach to guide our team for two years. I know she will deliver for our club, said East End Tigers Chief Executive Officer, Victor Lewis.
East End Tigers currently sit fifth on the Sierra Leone Premier League table.