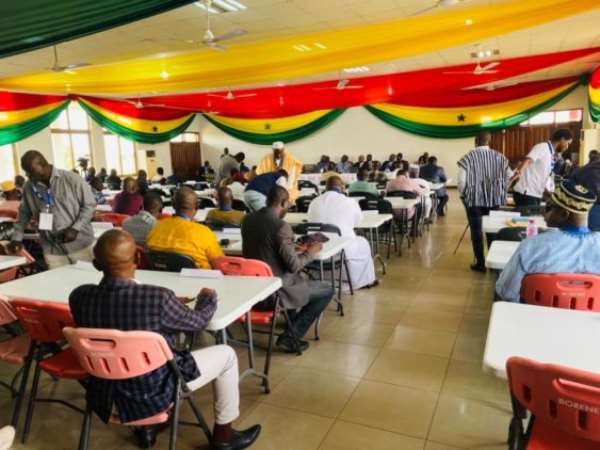 The Ghana Football Association (GFA) has today through its Ordinary session of Congress approved for membership of the four critical independent Committees.
Pursuant to Article 30(11) of the GFA Statutes, names of the proposed members of the judicial bodies and their profiles were sent to members ahead of Thursday's GFA Congress.
Following successful deliberations by participants of the Congress held at the Ghanaman Soccer Center of Excellence at Prampram, they have unanimously approved all proposed members.
All formed committees have been handed a four-year term and will work with the new GFA administration until their term in office expires.
Below are the members for the respective Independent committees:
A. Elections Committee
Joseph Bernard Ashalley (Esq.) - Chairman
David Amoo-Osae - Vice chairman
Daniel Oduro - Member
Danielle James - Member
Regina Ofori-Twumasi - Member
B. ETHICS COMMITTEE
Phyllis Christian - Chairperson
Dr. Isaac Annan (Esq.) - Vice chairman
Dr. Charles Takyi - Member
Wilfred Neneh Addico - Member
Linda Ofori-Kwafo - Member
C. DISCIPLINARY COMMITTEE
Osei Kwadwo Adow (Esq.) - Chairman
Carla Olympio (Esq.) - Vice chairperson
David Okyere - Member
Nathaniel Laryea - Member
Nurudeen Alhassan - Member
Shaibu Ali - Member
Emmanuel Niikoi (Esq.) - Member
Lorraine Adjekai Crabbe Ababio (Esq.) - Member
Elsie Nana Acheampong(Esq.) - Member
Retired Referee Justice Yeboah - Member
D. APPEALS COMMITTEE
Agbesi Kwadwo Dzakpasu (Esq.) - Chairperson
Felix Heesewijk Greene Anyinsah (Esq.) - Vice Chairman
Eva Okyere (Esq.) - Member
Dr. Bella Bello Bitigu - Member
Mabel Aku Banaseh (Esq.) - Member
David Asumda (Esq.) - Member
Joe Slovo Nyabila Tia (Esq.) - Member
Abdul Azziz Musah - Member
Emmanuel Kwasi Opare- Wiredu - Member
Frank Okyere Addo - Member