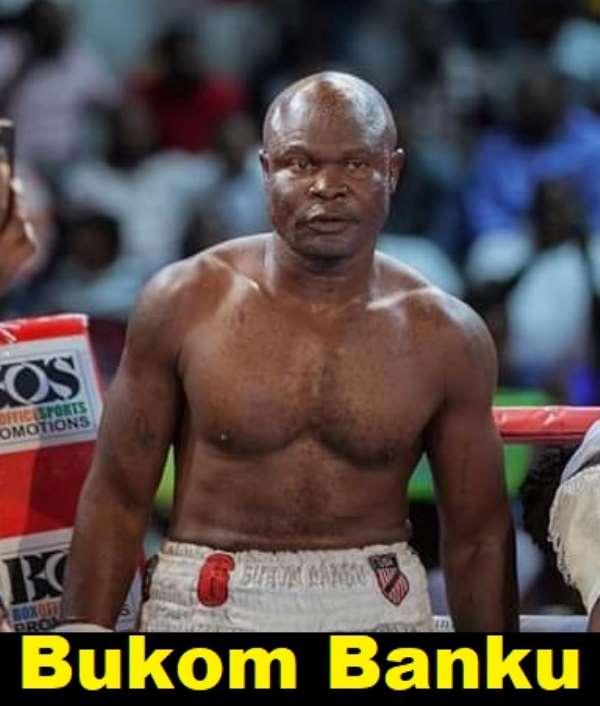 Ghana's popular cruiserweight boxer, Bukom Banku aka Braimal Kamoko is in London five days ahead of his first professional bout outside Ghana.
The ever bragging Bukom Banku has already predicted a round 5 stoppage and urged his fans to pray and support him to the fullest.
Ferenc Albert who comes from Hungary in an interview also promised a R3 KO, which makes the bout an attraction to draw more fans on Saturday 7 September in London, Breford City.
Ferenc Albert has a record fight of 27 winning 15 by knock out and losing 16, out of which he has fell by KO10 times.
He was born on 29-03-1993 in Odorheiu Secuiesc, Romania, though his hometown is Jánoshalma, Hungary.
The 175cm tall boxer has a reach of 174cm and takes to stand the Orthodox style.
Bukom Banku has also suffered only one lose in his career against Bastie Samir, and has since won all his fights and looks very good to give London boxing fans a good performance.
Bukom Banku born 17 August 1980 until 20 October 2017 had an undefeated record of 28-0-0 (21 K0). However, on October 21, 2017, he suffered a TKO defeat to Bastie Samir at the Bukom Boxing Arena in Accra, Ghana, in a seventh round.
He currently has 30 fights, winning 29 with 21 KOs against one defeat.
Braimah first rose to prominence by winning a bronze medal in the Heavyweight 1999 All-Africa Games organized in Johannesburg, South Africa in September of 1999.
Kamoko won the WBO Africa Light Heavyweight title in 2011, and the WBO Africa Cruiserweight title in 2012.
Kamoko suffered some periods of inactivity, leading him to the entertainment scene as a musician and entertainer as well as campaigner for former President John Mahama.