Saddick Adams Slams Vincent Atinga Insists He Will Not Flourish If He Does Not Change His Style Of Play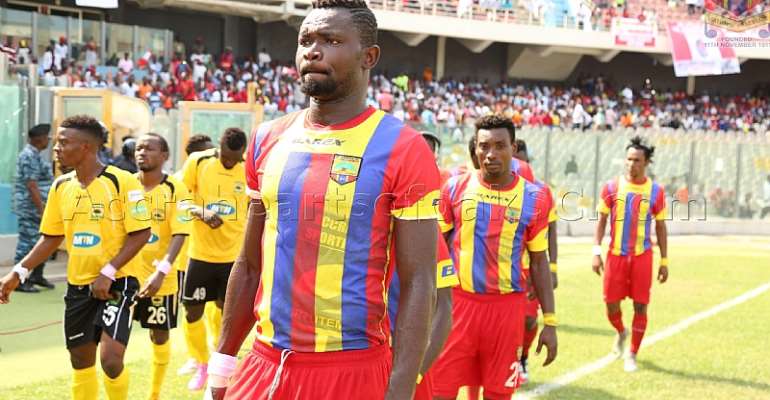 Asante Kotoko striker, Saddick Adams has slammed Hearts of Oak defender, Vincent Atinga asking him to change his style of play if he wants to flourish as a player.
The attacker had to be attended to in the cause of the game after receiving a challenge from Atinga in their MTN FA Cup finals that was staged at the Tamale Sports Stadium.
The defender in a video footage replay seemed to have elbowed his Saddick which eventually left Adams unconscious for some time.
However, the referee had to be halted for the striker to be treated before returning to action.
Adams has taken a swipe at Atinga urging him to change if he wants to flourish as a player.
"He (Atinga) is a good defender but it is about time he stops those needless challenges," he told Accra based Atinka FM.
"This was the second time he was doing that, he did same during the President Cup when he stepped on me deliberately which was career threatening.
"It is not good to be doing that as a defender, he deliberately elbowed me and I went unconscious, I just didn't want to reach because people will come out and say all sort of bad things about you.
"I struggled to breathe after he gave me an elbow on my chest but thanks be to God I was able to recover.
"If he continues with this kind of football, he is not going to succeed anywhere he goes. The likes of Dan Coleman and the rest played that kind of football, where are they now.
However, the defender [Vincent Atinga] who was not impressed with the comments by the striker also expressed displeasure at Adams intimidating statement.
"Who is Saddick Adams to decide my future? He is not God and he cannot decide my destiny," he said.
"I am a different person on the field, anyone close to me knows the kind of person I am.
"If he went out to play in Cyprus and did not succeed, it doesn't mean I will not also succeed."
Samuel Ekow Amoasi Appiah
Sports Journalist