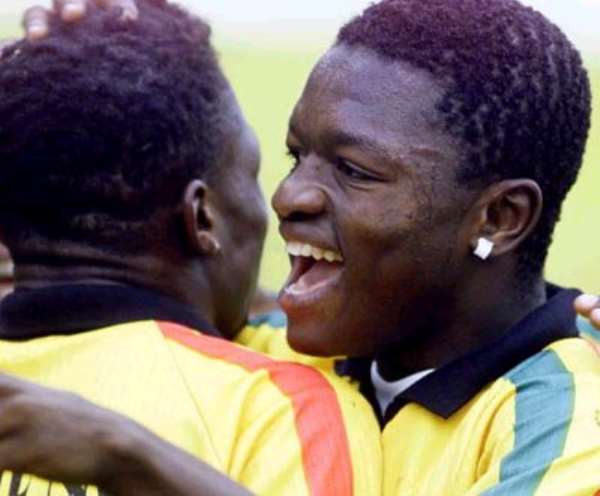 Black Stars' 'prodigal son', Sulley Ali Muntari, could make a surprise return to national duty on October 10 when Ghana hosts DR Congo in a tough World Cup qualifier.
Last month, the Italy-based player voluntarily withdrew his services from national duties after he was sacked from the Athens Olympic Games on disciplinary grounds on the eve of Ghana's group opener against Italy.Muntari became a rebel and impulsive action was greeted with widespread disapproval and the Ghana Football Association (GFA) endorsed the punitive action by Coach Mariano Barreto.
GFA Chairman Dr N. Nyaho-Tamakloe, outraged at the player's behaviour, swore that Muntari would be welcomed back into the team only after he had rendered "an unqualified apology" to the nation.After reflecting at his Italy base on his self-imposed exile, Muntari has eaten humble pie and is ready to lace his boots again for Ghana in the journey to the 2006 FIFA World Cup in Germany.
Information pieced together by this paper indicates that the midfielder has duly rendered an apology to the GFA and some of his team-mates, runaway Stars coach Barreto, even to the extent of withdrawing his strongly-worded letter of resignation to the FA.Informed by the turn of events, the FA has pardoned Muntari and he is being seriously considered for invitation by caretaker coach, Sam Arday, who is determined to field Ghana's strongest possible squad to face the Congolese.
Until he opted out of the Stars, Muntari was a prominent figure in the team's qualifiers against Burkina Faso, Uganda and South Africa. At the height of his performance during the seven-month tenure of Barreto, Muntari left Ghanaians with fond memories with a classic goal — a left-footed, waist-high volley — in Kumasi last June, as the Stars run riot in a 3-0 victory over a hapless South Africa team.
The Graphic Sports has further learnt that some prominent members of the Stars have pleaded for leniency for their remorseful teammate whose strong midfield presence, they reckon, would factor much in Coach Arday's winning formula. Even though the new coach is yet to make public his full squad for the October 10 clash, informed sources at the GFA say the team's composition would not differ much from the players who, under Barreto's guidance, helped steer Ghana to the top spot of Group B.
Determined to start on a clean sheet, coach Arday is said to be ready to end the international isolation of Accra Hearts of Oak's 'enfant terrible', Bernard Dong-Bortey, who was banished from the national teams by Barreto on grounds of indiscipline.
Dong-Bortey, whose form suffered a deep plunge, is beginning to pick up the pieces, and the reprieve by Arday could be part of a rehabilitation process for the one-time influential national star.Other local players invited from the nation's top three sides include Asante Kotoko's quintet of goalkeeper Ben Owu, centre-back Issa Ahmed, Yusif Chiibsah, William Tiero and Charles Taylor.
From Hearts come Dong-Bortey, defenders Dan Coleman and namesake Dan Quaye, while King Faisal's duo of Hamza Mohammed and Eric Gawu complete the 10-man local component of the team.