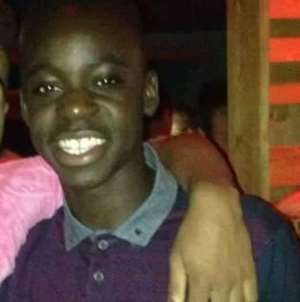 A DUBLIN family has been left devastated after a teenage football star died suddenly while he was playing a match.
Shetemi Ayetigbo (16) collapsed yesterday afternoon while his team Belvedere FC was playing a schoolboy league game.
The incident happened during a break in play while his side were taking on St Kevin's Boys FC at their grounds on Shanowen Road on the northside of the city.
According to a source the club's defibrillator was "produced very quickly", but despite attempts to revive Shetemi "nobody was able to do anything".
His family were said to be "in shock" last night while his teammates were described as "distraught".
Shetemi grew up in Donabate, living in the Ballisk Court estate for many years with his older and younger brothers Walle and Victor and their mother Lola.
They moved to the College Court area around two years ago.
Today his family were too upset to talk.
One friend who had known Shetemi since he was a small boy said he always had a smile on his face.
"It sounds like a cliche, but I never saw him without a smile. He was just the the happiest person I knew," said Sergey Kurapov (20).
"We would always play football together, me, Shetemi and his older brother. We would play in the car park or on the local green. Shetemi loved football, it was his life," he added.
"I was shocked when I head he had died. I could not believe it. He was very fit, very healthy. I still can't believe it," he explained.
"At first there was something on Facebook about it, but I could not believe it. Then a friend called me and I knew it was true," said Sergey.
"I last met him around two weeks ago. He was playing football of course," he added.
Shetemi, who has two brothers, lived with his family and went to school in the Donabate area.
It is understood that they had relatives visiting to celebrate Shetemi's mother's birthday over the weekend.
The teenager's club released an official statement last night.
"Belvedere Football Club is mourning the death of one of our U16 players who tragically collapsed while playing for the club today," a spokesperson said.
"While all our members are in deep shock, our thoughts and prayers are with his family at this tragic time."
Shetemi - affectionately by his friends as Shay - was a much-loved member of the squad.
"He was a very, very popular player and teammate. He was with the club a year and travelled in from Donabate to play for us - we are based in Fairview," the source said.
"It is really just devastating for everyone involved. The players are very distraught.
"We have just assured the players and parents we will do whatever we can to support them, because it is going to be a very difficult few days for them," the source added.
There was an outpouring of grief from friends on social media last night who recalled the Shetemi as being the "friendliest and funniest lad" who "always had a smile on his face".
credit: the herald