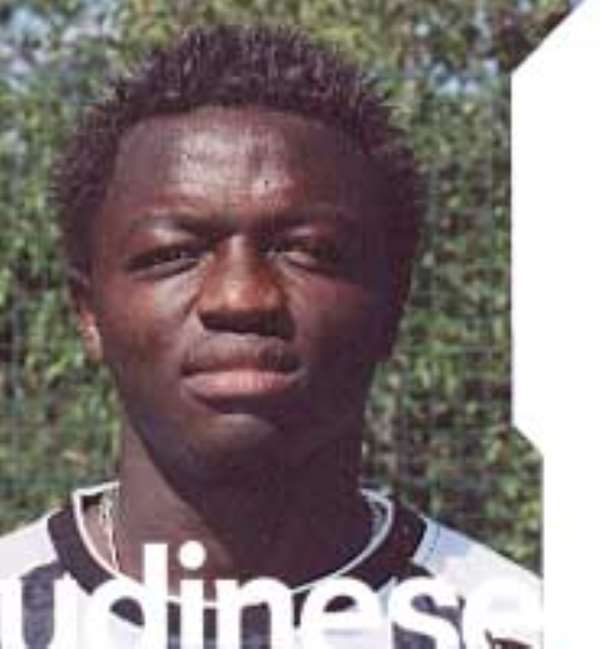 Ghanaian football fans may have just seen the end of Sulley Ali Muntari's romance with the national teams following the footballer's voluntary suspension of his services from future national assignments. His classic goal for the Black Stars in their 3-0 spanking of South Africa in a World Cup qualifier in Kumasi last June is, perhaps, the lasting memory the youngster left Ghanaians of his contribution to Ghana football. Muntari's announcement of his international retirement was even more surprising than the decision by Black Meteors coach, Mariano Barreto, to sack the player from the team's camp and replace him with Patrick Villars. At a time when he had just hit the limelight in the Italian Seire A, Muntari's resolve to turn his back on Ghana, could be seen as too rash a decision by the youngster who owes his fame in part to international exposure given to him by the nation.He thus, joins a host of Ghanaian stars like Tony Yeboah, Mohammed Gargo and Alex Nyarko, who at different times in their careers turned their backs on their motherland.
As the Meteors battle for Olympic glory in Athens, Muntari is back to his Italy base to commit his career to his Italian club, Udinese. It remains unclear if the 21-year-old midfielder will carry out his threat or will be coerced like others before him, to rescind his decision.
The Ghana Football Association (GFA) Management Board says it plans to sit Muntari down and convince him to rejoin the Black Stars. Close observers, especially the past FA administration, are not surprised at the turn of events, as Muntari once wrote to the FA to announce his voluntary retirement from the national teams.
However, he was prevailed upon by the powers that be until Barreto invited him to feature in Ghana's World Cup qualifiers against Burkina Faso, Uganda and South Africa.
One of Barreto's strong foreign-based players, Muntari reportedly became a bad influence and a destructive effect in the team's training camp in Portugal, for which reason the Portuguese coach took the painful decision of firing the midfielder from the team, in order to avoid a breakdown of discipline.
No-nonsense GFA Chairman, Dr Nyaho-Tamakloe, a strong advocate of discipline by national players, and the accompanying teams officials, immediately endorsed Barreto's decision to dismiss Muntari, after they were briefed on the player's non-co-operative behaviour and attitude in camp.
Investigations by the Graphic Sports point to serious infractions of camp rules by Muntari, bad attitude and his general lack of co-operation during their training camp. A GFA source told this paper that Muntari's behaviour was "vary serious" and points to his lack of seriousness and respect for Barreto.
One of the team's accompanying officials blamed the player for such transgressions as persistent lateness to training, refusal to carry out certain assigned tasks, among others.
Barreto reportedly gave Muntari a long rope in the hope that he would turn on a new leaf, but things rather deteriorated from bad to worse. The coach's patience eventually melted away when the player allegedly allowed his Italian girlfriend to join him in camp, and after refusing to allow the girl leave as instructed by team officials, Barreto finally swung the disciplinary rod.
The coach's problems with Muntari were said to pre-date the Meteors training camp. The red flags started flying when the player refused to join the Stars to Mozambique for an international friendly ahead of the World Cup qualifier against Uganda.