Interview: Q&A with Ghana U20 physical trainer Omar Al Duri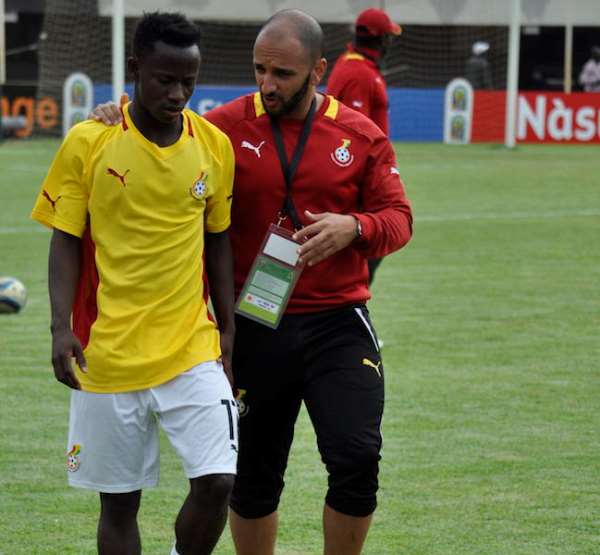 Omar Al Duri and Yaw Yeboah at the 2015 African Youth Championship
GHANASoccernet.com speaks exclusively to UAE-based award winning Ghana U20 fitness coach Omar Al- Duri on his stay with the team at the just ended African Youth Championship in Senegal.
The 2014 Coach of the Year at the Fit Awards in UAE shares his excitement working with Black Satellites and the team's family values.
Al Duri looks forward to helping Ghana Football achieve greater heights with his expertise.
Who is Omar Al-Duri?
A Sports Professional with two Bachelor Degrees, Football Coaching badges and a student of the Beautiful Game.
How did you come into contact with Ghana Football?
I having been in the industry for 14 years and dealing with athletes. I was being monitored following receiving a few awards and accolades in the fitness industry especially in coaching. I was recommended and approached by the Ghana FA to help develop the U20s physically and psychologically.
What do you bring to Ghana Football Association in general?
I would rather my colleagues who have worked with me answer that for me.
Dr Prince Pambo : "My players really enjoy his recovery strategies and his total commitment to the teams success. He is real and a great addition to the nation! It feels like he's been with us for ages!"
Coach Yaw Preko: " Omar joining this nation has been excellent because it is the first time for the u20s to experience the feeling of being managed by a physical trainer. He has brought in different ways of working and his energy is great which is very important for the group but mostly he is loved by everyone. Great having him around and looking forward to working with him for a much longer period!
I would like to think that I complemented the great team we had and had a role to design and implement training sessions for the U20 Ghana International football team. My role was to also ensure that the players qualify for the U20 World Cup in New Zealand and that would only happen if they achieved minimum Semi Final Status in the African Nations Cup. Our objective was to win the tournament and use the competition as a Platform to progress.
Omar Al Duri training the Ghana U20 team at the 2015 African Youth Championship
Is Ghana's U20 team the first football team you with? How was the experience like?
No it wasn't my first time dealing with a football team as I have been involved in the game for many years and also have my own women's football team in the Dubai Women's Football Association League. I have also worked with Boxers, Golfers and mixed martial artists.
I have learnt to adapt to this level and merge ideas to get the best out of the squad. It has been a great Platform to practice my craft and be amongst great professionals. It's been an incredible learning curve to merge ideas and thoughts in developing the players and fulfill their potential as future stars!
What do you think of Ghanaian footballers after working with the Black Satellites?
Having experienced my time with them-It was more like a family than a job because I got attached to them and they accepted me for who I am. Together we collaborated very well and finished strong-overcoming many obstacles and hurdles.
Omar Al Duri

How disappointed were you when the team failed to win the tournament in Senegal.
We were extremely disappointed because we entered with the belief and capabilities to win the whole competition. We never underestimated the task ahead but believed in ourselves and remained focussed and grounded on whatever task we were facing.
At the time it was all about remaining focused and not dwelling on the loss against Nigeria even though we felt we matched them physically and technically we felt hard done by two setpieces which we had already worked on.
That energy and approach helped us beat Mali convincingly for the bronze medal overcoming our defeat in the group stages which could of been difficult for any other team to pick themselves up after.
Omar Al Duri
Will you be working with the team at the FIFA U20 World Cup finals in New Zealand this May?
Having returned back to Dubai, you never know what the future holds. As the Ghanaians say " KUNFA YE KUNUU"
What is your long-term plan for Ghana Football.
To help this beautiful nation make their fans proud all over the world and achieve their undoubted potential.