Ishmael Addo tops the Big Debate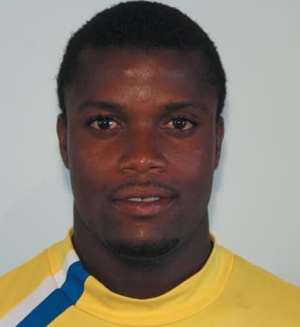 by Kelvin Wellington
There was a time when the Ghanaian league boasted a striker who could rub shoulders with the best in the world.; a time when our local league possessed one of, if not the finest striker in Africa. The time was between 2000 and 2002; and that player is none other than Ishmael Addo.
You probably have heard tales of the famous Hearts of Oak – Kotoko rivalry of the late 90s and early 20s; that is if you were too young to be "football-conscious" at the time. You'd have heard of how stadia were always filled to the brim, as the whole nation came to a standstill.
In these times, when local football had life in it, when fans would attend matches in droves, Ishmael Addo was king. Forget the likes of Ronaldo, Inzaghi and Del Piero. The Ghanaian kid dreamt of being the next Ishmael Addo.
The stats speak for themselves: Overall top scorer in the history of the Ghanaian league (22 goals), a record he holds to this day; 60 goals scored across three seasons from 1999 and 2002. Added to this, he was the top scorer at the FIFA U-17 World Cup in 1999, with 8 goals.
He struck fear into opponents, most notably arch-rivals Asante Kotoko, as he terrorized them at every given opportunity. His two well taken goals against them (controversial or not) on that fateful May 9th tragedy day will forever be etched in our memories.
He usually played off the shoulder of the last man, was comfortable in a two man attack, or playing upfront all by himself. Such was his versatility that it was difficult to predict what he would do in a football match.
In the Champions League final against Esperance, he single-handedly kept them on the defensive with his speed and movement, as Hearts battled with ten men. His constant presence and awareness rendered Esperance's numerical advantage useless.
Yes, there have been talented and lethal strikers in the last 15 years, but none have captured the imagination like Addo, and it'll take some time for anyone else to. Ishmael Addo revolutionized the striking role, and was an important figure in influencing a new breed of lethal strikers.
His career did not turn out the way he would have wished, as he never got the opportunity to showcase his skills in the best leagues in the world. Much like is said of the Brazilian Ronaldinho, he didn't last long at the top, but when he was on top of his game, he was simply unplayable.
Forget the last 15 years. He is arguably one of the most talented strikers ever to grace the Ghanaian league.
Eric Bekoe
http://allsports.com.gh/wp-content/uploads/2014/01/bekoe.jpg
by Thomas Freeman
Eric Kwabena Bekoe has every right to stake a claim as the best striker of the past decade and a half in the Ghana Premier League after a pheneomenal career spanning Liberty Professionals,Kpando Hearts of Lions  and the nadir ,Kumasi Asante Kotoko.
Bekoe was scoring goals in rapidity and  in the 2007/08 season he scored 17 premier league goals to win the top scorer in his first season for Asante Kotoko. This was the first time since 1990/91 season a Kotoko player won the top scorer in Ghana league since Thomas Boakye had done so.
At the same time he scored over forty goals in all competitions for Kotoko in just the 2007/08 season he played for the club.His  deadly scoring led to the legend of  "Na Bekoe na Coleman", roughly translated to see Bekoe,See Coleman after a derby game against arch rival saw a remarkable man marking strategy by Hearts of Oak hard man Dan Coleman.
Bekoe could score from anywhere in so many ways.He had a good turn of pace allayed with a knack for finding space in the penalty box and loved a good challenge.Former Tema Youth  coach Isaac Opeele Boateng still rues getting on his wrong side.
Bekoe was consistent but that one incredible year in 2207/2008 will live in legend.
Mahatma Otoo
http://allsports.com.gh/wp-content/uploads/2014/01/Mahatma-Otoo-new1.jpg
by Kwame Boakye
Special. That's quite a special word when it comes from the senior national team's head coach and it wasn't just a perfectly awesome coincidence that Kwesi Appiah labeled Mahatma Osumanu Otoo a 'special player' early last year. The 21-year-old Ghana international is a born star. Otoo is an upheaval of football excellence, a prodigy of the beautiful game. And under no circumstance will one be overstating if the word 'best' is used in his description.
Mahatma Otoo got his first professional contract in football at just 16 years of age and the Ghana Premier League was blessed with a remarkable striker. His impact was instant. The ball at the feet of the 16-year-old was phenomenal. His technique was that of an experienced player. Otoo was a sheer talent. And it came as no surprise when he was handed the discovery player of the 2008/2009 season.
The resilience and insatiable nature of Otoo made him go a step further at the top level of Ghanaian football, signing for Accra Hearts of Oak in the 2009/2010 season. Was this a step too high for a 17-year-old? That was never the case for Mahatma Otoo as his strength and vision upfront defied all odds to make him a success in his first season with the Accra based club. This success was highly recognized and rewarded for the second consecutive time, winning the Best Player in the Ghana Premier League for the 2009/2010 season.
The glowing talent of Otoo in the Premier League caught international eyes after his admirable displays and had a small stint at Tunisia. The striker returned to Accra Hearts of Oak and in his first full season upon his return, scored 10 goals. That was no small task for a 19-year-old at a club with tremendous expectations.
Mahatma Osumanu Otoo's performances showed that of a matured player. His willingness to give his all and never give in made him a stand out amongst his team-mates. He was named captain of Accra Hearts of Oak and that trust from the club brought out the goals in Otoo.
He scored 20 goals to become the top scorer in the 2012/2013 Ghana Premier League season.
Scoring hat-tricks is never easy irrespective  how Cristiano Ronaldo and Lionel Messi make it look and Mahatma Otoo spiced up his golden boot accolade with a few of those. The most notable of the hat-tricks being the first of the 2012/2013 season against New Edubiase before crowning his last game of the season with another against Tema Youth.
Mahatma Otoo has spent just five years at the top level as a professional footballer and can be branded as the best top scorer the Ghana Premier League has ever seen.
Charles Asampong Taylor
http://allsports.com.gh/wp-content/uploads/2014/01/asampong.jpg
by Godfred Akoto Boafo
Enigma.Entertainer.For a time Charles Taylor was the biggest show in the country.A winger who became a goal threat coupled with a penchant for the ridiculous and impossible in football.He could do everything with a ball with both feet and played the game as if it was a knock about with his school mates .
Taylor's name was enough to sell any game and at his peak there has never been a better footballer on the pitch in the Ghana Premier League.Joint goal king with 18 goals in 2002 with Bernard Dong Bortey but there was no doubting who the star of the show was that season as Hearts of Oak conquered all that was before them.
Taylor made famous the reverse side step that was unique to Nigerian superstar J.J Okocha and was proficient from set pieces but it was the four month battle for his signature in 2003 that he will best be remembered for. Kumasi Asante Kotoko paid what is still the  second highest domestic transfer fee paid for a player and boy did he deliver in the Garden City for the Porcupine Warriors.
He applied supreme technique with simplicity and won games by himself.His attitude as a team player could be criticized but the sheer value of his performances always left you wanting more.
This group is littered with with supreme finishers but none had the wow factor like the man legendary commentator Kwabena Yeboah nicknamed "the Terrible Terror".
Emmanuel Baffour
http://allsports.com.gh/wp-content/uploads/2014/01/baffour-new2.jpg
by Fiifi Anaman
Emmanuel Baffour might have not been your quintessential modern attacker – explosive, pacy, graceful on the ball with mesmerizing dribbling skills – but he was everything a striker is supposed to in a classical sense.
His admirable simplicity was his sophistication, his efficiency his trademark. Baffoe did the simple things with an imperious touch of class and accuracy.
His finishing was exquisite, without blemish. He wasn't the striker that would get involved, for he wasn't the best on the ball. He was the one that would move around strategically, reading attacks with that big footballing brain of his.
And when he did latch unto a ball – almost always in the box – he'd effortlessly stick in the back of the net with that ice cold instinct exclusive to a rare breed of strikers born with the subtle art of goal scoring embedded in their genes.
Perhaps, Baffoe's loudest criticism was his one dimensional nature – of being all about the goal scoring art and lacking in every other aspect of goal creation and attack building. In fact, it was because of this noticeable flaw that made him lose out to Kotoko's Daniel Nii Adjei in the race for the league's MVP.
He'd struggle in a game by being sluggish on the ball and have fans whining, He'd look clueless, clumsy and amateurish with the ball at his feet.
But he'd never disappoint when it mattered most and that is what made him unique. That is what made him relevant. For all the rounded qualities of a forward he lacked, he made up for it with his coveted cutting edge. And deep down, every football fan is in love with this type of striker. Straight to the point.
It's no surprise he turned out to be the first striker to cross that 20 goal mark since Ishmael Addo in over a decade, scoring 21 goals to top the charts in 2012.Only six goal poachers who've won the goal king award in its 39 year history scored more goals than him.
But while his seemingly limited skills-set and lack of versatility continues to offer arsenal to  his critics to dismiss him, even they will attest to the fact that few strikers in the business can match his jaw-dropping, show-stopping goal scoring talent when his team plays to his peculiar style.
Baffour was special. He was goals.
 
Prince Tagoe
http://allsports.com.gh/wp-content/uploads/2014/01/tejgo.jpg
by Nana Afrane Asante
Certainly one of Ghana's prolific goal poachers in the history of the Premier league whiles playing for Accra Hearts of Oak in 2005 becoming the top goal scorer of the 2005 Ghana Premier League with 18 goals but a lot seems to have gone wrong since he moved off the shores of Ghana.
The name Prince Tagoe is very familiar on the lips of most Ghanaians and the other name associated with it was the tag, 'Prince of Goals'. Born on November 9 1986 Tagoe was one of Ghana's prolific strikers during his playing days with Accra Hearts of Oak clearly giving defenders a torrid time on the field of play.
Tagoe was tagged as the next biggest thing to happen to Ghana football with the fire power he possessed in front of goal. He was one player who knew exactly what to do with the ball and his lanky frame hid his blistering pace and good feet .
Stints in the Far East and Germany have seen the once feared striker in Ghana become an ordinary player on the field of play. One may ask whether he made a move too early abroad and should have probably stayed on for another season or two with Accra Hearts of Oak.
Here was a player many Ghanaians believed was a long term asset for the national team the Black Stars. Prince Tagoe was definitely a star that shone amongst other stars but not one that shone when it was needed the most.
Do you agree with that Ishmael Addo was the best?Share your thoughts and comments below.