Boost For 63' AFCON Winners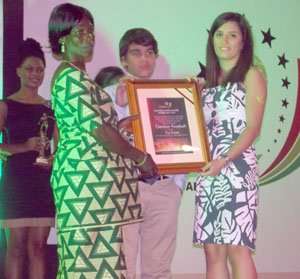 The good works of past and current footballers in the country received massive recognition in the second Guinness National Players Awards (NPA) at the Banquet Hall of the State House in  Accra last Friday.
Touched by the motive behind the ceremony: rewarding the efforts of  players who have served  the Nation at one point or the other in their respective roles: the Minister of Youth and Sports, Hon Elvis Afriyie- Ankrah, who chaired the function,  revealed that talks were being held high in governmental corridors to do the same for aggrieved 63' 65' and 67'  Black Stars  Nations Cup winners.
'Talks at the highest level of government is ongoing to reward the  63', 65' and 67' Black Stars group that won the Nations Cup to give them a token of recognition.
' We want to ensure that their effort is not in vain and that their wounded spirits would be healed so that the current Black Stars will have their blessing to excel in Brazil, it is something that will happen.
'Past governments promised them but they did not honour their words, we need to appease the soul of the living and the dead, and we will do that for them before Brazil, I have great respect for players because of my close relations with them the past few weeks.'
He indicated that Ghana is recognised worldwide because of soccer and, therefore, commended the organisers of the event, Proton Services Limited (PSL) and the Retired National Football Association of Ghana (RENFAG).
The Chief Executive of PSL, Mr Kurt E.S. Okraku, pointed out that the initiative sought to serve as a morale booster for the young generation as well as reward the past generation.
Shield Acrylic Paints', supporting sponsors, Mariane Akiki, pledged her outfit's  continued support for the award ceremony.
Mubarak Wakaso picked  Black Stars'  Most Valuable Player (MVP) as well as the top scorer prizes.
It was Priscilla  Okyere, who won the Black Maidens MVP award with Jane Ayieyam  taking  home the  top scorer award. Black Princesses' Elizabeth Addo picked both the top scorer and MVP prizes.
Black Starlets'  Emmanuel Oti emerged as the Most Valuable U-17 Player, while Emmanuel Boateng  won the top scorer award. Ebenezer Assafuah picked double  honours- Black Satellites'  top scorer prize and the Most Valuable Player.
Adansie Fofie, George Alhassan, Mensah Aguadze, Dodoo Ankrah and Kwame Adarkwa received the Golden Legend Awards-trophies and special cash prizes, CK Gyamfi and Ben Kuofie received special prizes for their exploits in the 63' and 65' Nations Cups.
The 98-99 Black Queens squad  were accordingly rewarded.
By Kofi Owusu Aduonum