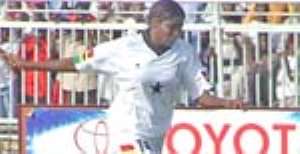 AFTER GHANA'S senior national team, the Black Queens had suffered defeat at the hands of Canada and Australia at the on-going FIFA Women's World Cup in China, many people, including some senior players abroad, have expressed their discontent with the performance of the team.
The Black Queens' central defender, Elizabeth Baidoo, who is now in the United States of America, expressed her disappointment about the performance of this year's Black Queens squad.
She blamed the Queens' management committee for failing to invite her to play for the nation.
"Having completed school recently, I am now working with a firm and also playing football," she said.
Elizabeth Baidoo, formally with Accra Ghatel Ladies club in Ghana, admitted that she was contacted in January this year by the Ghana Football Association (GFA) officials who wanted her to play for the national team during the World Cup tournament in China.
According to her, she told the handlers that because of her busy schedule, she would only be ready in August, which was a month to the World Cup in China, stressing that since then she had not received any call from the GFA Secretariat.
"I have no plans to retire now from active football especially from the Queens because I think my services are still needed," Baidoo revealed.
Elizabeth Baidoo was in the country to feature for the Black Queens when Congo Brazzaville failed to turn up for the African Women Championship qualifier at Obuasi.
She was asked by the GFA management members to go back to her base in the U.S.A and return before the Queens start their preparation for the Women's World Cup.
Speaking to DAILY GUIDE SPORTS, Mr. Philip De Graft Johnson, Black Queens management committee member refuted the allegation that Baidoo was not invited to join her colleagues in camp for the assignment.
He said since Elizabeth Baidoo was no more schooling in the USA but working, it was not important to ask for a release letter before she comes to feature for the team.
"Therefore nobody prevented her from playing for the team, as the FA doors were opened for any good player to join the other girls.
"It is unfortunate that such a respectable star could make such an allegation against the officials of the FA," he lamented.
He said the FA welcomed other girls, including Mavis Danso and Patricia Ofori, who came from the United States, "and these players featured in recent matches of the Queens at the on-going World Cup".
Mr De Graft Johnson pointed out that Baidoo was expected in August and she failed to come down.