Media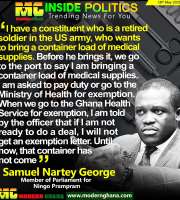 Relevant Links
Media Links
The ugly wife The ugly wife
A pastor was once preaching and said that every man should give an offering according to the beauty of his wife. A man gave an offering of five pesewas and hi was asked to explain why he gave only five pesewas. The man said,"if you see my wife you will give me a change".


Author: Joseph Quarshie AKA Star boy carzola quarshie. Follow me on IG and Facebook star boy carzola quarshie
---
---
COMMENTS
Adora | 11/27/2020 4:49:00 PM
hahhahaha

REPLY
conchez | 5/7/2021 2:08:37 PM
Hahahh

REPLY
Top Stories
5 hours ago

Ministerial approval: NDC MPs outsmart Asiedu Nketia who wanted them to take pho...
5 hours ago

US Vice President Kamala Harris arrives in Ghana today
6 hours ago

'I didn't say I'm the messiah, I don't have those spiritual connotations; but I'...
6 hours ago

'Arrest any youth caught eating in public' — Kano State's Hisbah Board tells rel...
6 hours ago

Minority fiasco: Will NDC ever deliver for Ghanaians — Franklin Cudjoe quizzes o...
6 hours ago

Koku Anyidoho defends NDC MPs who voted to approve ministerial nominees
7 hours ago

Kenya police chief bans new opposition protests
7 hours ago

Chad's president signs pardon for 380 rebels sentenced to life in prison
7 hours ago

Replace worn out cylinder hoses, rubber seals regularly — NPA urges public