Media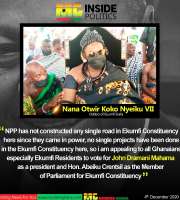 Relevant Links
Media Links
TURTLE RECALL An elephant drinking from a stream spots a tortoise lounging on the shore. He grabs it with his trunk and flings it into the jungle. A passing zebra asks, "Why did you do that?" ...... "Forty years ago that very tortoise nipped my tail just for fun," the elephant said. "Wow, forty years ago! How did you remember that?" "Well I have turtle recall," replied the elephant.


Author: Arwindagger
---
---
Top Stories
4 hours ago

Ministerial approval: NDC MPs outsmart Asiedu Nketia who wanted them to take pho...
4 hours ago

US Vice President Kamala Harris arrives in Ghana today
5 hours ago

'I didn't say I'm the messiah, I don't have those spiritual connotations; but I'...
5 hours ago

'Arrest any youth caught eating in public' — Kano State's Hisbah Board tells rel...
5 hours ago

Minority fiasco: Will NDC ever deliver for Ghanaians — Franklin Cudjoe quizzes o...
5 hours ago

Koku Anyidoho defends NDC MPs who voted to approve ministerial nominees
6 hours ago

Kenya police chief bans new opposition protests
6 hours ago

Chad's president signs pardon for 380 rebels sentenced to life in prison
6 hours ago

Replace worn out cylinder hoses, rubber seals regularly — NPA urges public