Media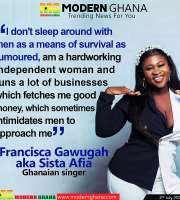 Relevant Links
Media Links
Dear Covid-19 You are my sanitizer, the quarantine of my heart, my one and only COVID. When I don't see you, I feel like being in a partial lockdown, if you are not around I feel like being in total lockdown. the mask of my life you will always be my virus.

Tears flow down my eyes like running water all I need is your soap.

Due to social distancing, I am always reminded by your words to cover my mouth with a tissue and put in a dustbin. I have done numerous tests and most of them are negative, the few positive once have recovered and most are recovering, I don't want to forget those who passed on and pray for those in ICU.

All I want from you is to stay home and stay safe, know that this too shall pass.


Author: A.k. Amekudzi
---
---
COMMENTS
Ernest Ameyaw | 4/24/2020 1:40:10 PM
Nice

REPLY
Denzel | 4/25/2020 8:56:36 AM
Gee

REPLY
Last Kid | 5/6/2020 11:25:25 AM
Wow it's sounds good

REPLY
DASSA AMOS | 6/13/2020 3:28:11 PM
O596581146

REPLY
AMLU | 6/13/2020 3:41:16 PM
O246545987

REPLY
Dave Shade | 7/10/2020 10:00:13 AM
Wow Covid Stay Home Stay SAFE

REPLY
JK | 2/5/2021 7:21:40 PM
Stay alert 🗣️🗣️

REPLY
Naa | 3/15/2021 11:09:02 PM
Good not bad

REPLY
Quality | 6/27/2021 8:56:48 PM
Nice one

REPLY
Top Stories
6 hours ago

Ministerial approval: NDC MPs outsmart Asiedu Nketia who wanted them to take pho...
6 hours ago

US Vice President Kamala Harris arrives in Ghana today
7 hours ago

'I didn't say I'm the messiah, I don't have those spiritual connotations; but I'...
7 hours ago

'Arrest any youth caught eating in public' — Kano State's Hisbah Board tells rel...
7 hours ago

Minority fiasco: Will NDC ever deliver for Ghanaians — Franklin Cudjoe quizzes o...
7 hours ago

Koku Anyidoho defends NDC MPs who voted to approve ministerial nominees
8 hours ago

Kenya police chief bans new opposition protests
8 hours ago

Chad's president signs pardon for 380 rebels sentenced to life in prison
8 hours ago

Replace worn out cylinder hoses, rubber seals regularly — NPA urges public