Media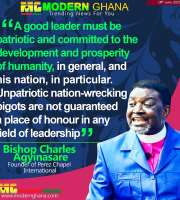 Relevant Links
Media Links
The formula in public speaking An English professor was asked the formula of success in public speaking.

"Well", he said, "in promulgating your esoteric cogitations and articulating superficial, sentimental and psychological observations, beware of platitudinous ponderosity.

Let your extemporaneous decantation and unpremeditated expatiations have intelligibility and veracious veracity without rodomontade and thrasonical bombast.

Sedulously avoid all polysyllabic profundity, pusillanimous vacuity, pestiferous profanity, and similar transgressions".

Then he asked,
"Did u get the formula of success in public speaking?"

"To put it a bit differently", He concluded, "talk simply, naturally and above all don't use difficult words".
©A-poly communication skills lecture note 2009.
By Mrs. Anane.


Author: A.K. Amekudzi
---
---
Top Stories
5 hours ago

Ministerial approval: NDC MPs outsmart Asiedu Nketia who wanted them to take pho...
5 hours ago

US Vice President Kamala Harris arrives in Ghana today
6 hours ago

'I didn't say I'm the messiah, I don't have those spiritual connotations; but I'...
6 hours ago

'Arrest any youth caught eating in public' — Kano State's Hisbah Board tells rel...
6 hours ago

Minority fiasco: Will NDC ever deliver for Ghanaians — Franklin Cudjoe quizzes o...
6 hours ago

Koku Anyidoho defends NDC MPs who voted to approve ministerial nominees
7 hours ago

Kenya police chief bans new opposition protests
7 hours ago

Chad's president signs pardon for 380 rebels sentenced to life in prison
7 hours ago

Replace worn out cylinder hoses, rubber seals regularly — NPA urges public